Posted: Apr 16, 2013 5:00 AM
A delectable, simple quiche loaded with spring peas and asparagus is perfect to serve for breakfast, lunch or dinner. How about served in individual ramekins? Even better! Go crustless to cut down on calories and save on baking time too!
What's not to love about fresh, in-season asparagus and spring English peas? Throw in a little Gruyere cheese and you've got a delicious, creamy and very flavorful spring quiche. This mini ramekin quiche recipe is perfect to make for breakfast, lunch or dinner this spring!
Mini spring vegetable quiche
Serves 4
Ingredients:
2 tablespoons olive oil
2 tablespoons unsalted butter
1-1/2 cups asparagus cut small and steamed until tender
1 cup fresh spring peas, steamed until tender
1 cup onion, diced small
3-4 garlic cloves, minced
3 eggs
1 egg yolk
1 cup heavy cream
1 cup Gruyere cheese
Kosher salt and freshly ground pepper
Directions:
Preheat your oven to 350 degrees F. Butter 4 (8-ounce) ramekins and set aside.
Bring a medium pot of salted water to a boil. Add the asparagus and peas to the steaming basket and steam for 2 to 3 minutes. Remove from the heat and set aside.
Meanwhile, in a sauté pan, melt the butter and add the olive oil. Add the diced onion and garlic. Cook until just tender, about 5 to 8 minutes. Add the asparagus and peas and heat through. Remove from the heat and set aside.
In a large bowl, whisk together the cream, eggs and egg yolk. Stir in the Gruyere cheese and vegetable mixture. Sprinkle in salt and pepper.
Place the ramekins on a rimmed baking sheet. Ladle the quiche mixture into the ramekins, dividing evenly.
Bake until golden brown, 35 to 40 minutes.
Serve with crusty bread and a mixed green salad on the side!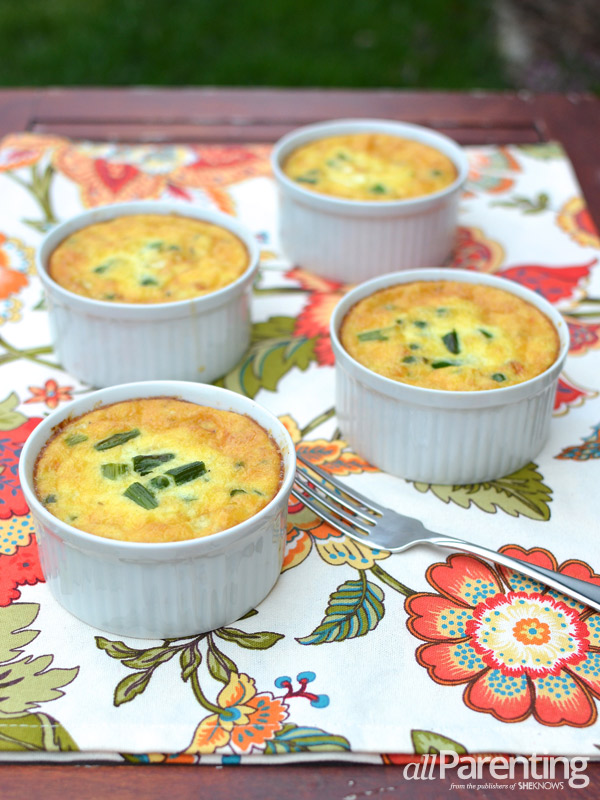 More light meals to try
Spinach salad and grilled salmon
Fast Greek chicken pita dinner
Southwestern chopped salad with shredded chicken and black beans