Posted: May 13, 2013 11:00 AM
What's better than fresh strawberries? Fresh strawberries with rum. Bacardi Dragon Berry Rum to be exact, an exotic, strawberry-infused rum with dragon fruit. It's a great rum cocktail for enjoying on those hot summer days.
During the warm weather months I buy organic strawberries by the bucketful to use in everything from salads to desserts. But one of my favorite uses for them is in cocktails. Muddled strawberries add great flavor and texture to mixed drinks and pairs well with vodka, rum and Champagne.
The secret to using strawberries in cocktail recipes is to only buy organic berries when they are in season. Inorganic berries are full of pesticides and out-of-season fruit won't have the best flavor.
In this strawberry patch cocktail, a freshly muddled strawberry (or two depending on the size) is combined with Bacardi's Dragon Berry Rum. Now if you haven't heard of this rum yet, you are missing out. It's strawberry rum infused with dragon fruit. The taste is so good you could drink it straight as a shot. To complete the strawberry trifecta, the drink is finished with strawberry lemonade. It's sweet, a tiny bit tart and full of fresh flavor... What's not to love?
Strawberry patch cocktail
Serves 1
Ingredients:
1 large or 2 small strawberries
2 ounces Bacardi Dragon Berry Rum
Strawberry lemonade
1 strawberry for garnish
Directions:
Muddle the strawberry in a cocktail shaker.
Add rum and ice and shake vigorously for 30 seconds.
Strain the contents of the cocktail shaker into an ice-filled rocks glass.
Top with the strawberry lemonade.
Garnish with a strawberry and enjoy!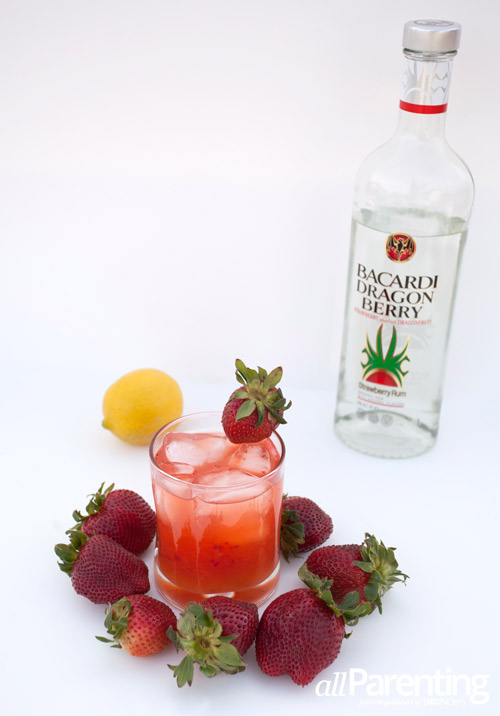 More fresh fruit cocktails
3 Bellini recipes for brunch
Strawberry mojito recipe
Blueberry peach sangria