Posted: May 01, 2013 5:00 AM
If you think rhubarb is just for dessert, think again. When cooked down and sweetened up, it can be made into a savory sauce for grilled chicken or fish.
With long summer evenings just around the corner, many people are thinking of two things: grilling and fresh summer produce. There is nothing easier than throwing a few chicken breasts on the grill and pairing them with a lightly dressed green salad. After a while, however, grilled chicken can become a little... well, boring. Pairing it with a sweet and savory chutney or sauce is one way to turn chicken into a dish that your family will beg you to make.
Rhubarb is one of the first vegetables to poke its head through the soil as springtime turns to summer. Although often used in pies along with one of its best buddies, strawberries, the tart flavor of rhubarb lends itself beautifully to spiced chutneys that can be used to top chicken or pork.
Even if you generously dollop the chutney over the chicken, there is bound to be some left over. Use it in wrap sandwiches, layer it in yogurt parfaits or, better yet, spoon it over vanilla ice cream.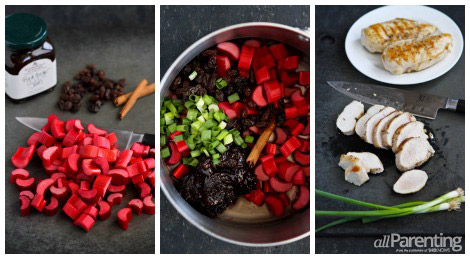 Grilled chicken with rhubarb chutney
Serves 4
Ingredients:
The chutney:
2 cups 1/2-inch pieces rhubarb
1 cinnamon stick
1/3 cup water
1/2 cup fig preserves
1/3 cup raisins
1/4 cup granulated sugar
3 tablespoons red wine vinegar
2 green onions, sliced
The chicken:
4 boneless, skinless chicken breasts
1/2 teaspoon salt
1/2 teaspoon ground pepper
Directions:
The chutney:
Combine all of the chutney ingredients in a medium saucepan. Bring to a boil, then reduce heat to a simmer.
Cook, stirring occasionally, until the rhubarb is tender, 7 to 8 minutes. Discard the cinnamon stick. Transfer the chutney to a glass bowl and refrigerate for 1 hour.
The chicken:
Preheat the grill to medium-high. Lightly oil the grill.
Season the chicken with salt and pepper.
Cook the chicken until it is just cooked through, 4 to 5 minutes per side. Let the chicken rest for a few minutes before slicing. Serve with the chutney.

Other recipes for the grill
Bourbon barbecue baby back ribs
Orange mango grilled pork chops
Honey soy grilled salmon with edamame