Posted: May 06, 2013 5:00 AM
There's no need to pull out the heavy cream for this dish. Mix mascarpone cheese (an Italian-style cream cheese) with sauteed mushrooms and tender linguini for a luxuriously creamy pasta dish.
Sometimes a simple bowl of creamy pasta is all that is needed to satisfy that comfort-food craving. You could pull out the heavy cream and handfuls of cheese to go the fettuccine Alfredo route. This recipe, however, uses a couple of unexpected tricks to achieve a creamy consistency without actually using cream.
The first step is to pick up a container of mascarpone cheese at the supermarket. It may have a fancy name, but mascarpone cheese is simply an Italian-style cream cheese that is typically sold in a small plastic container.
The second trick is one that you should keep at the back of your mind each time you make a pasta dish. When the pasta is almost cooked, scoop out and reserve one cup of the pasta cooking water. The water is starchy from the pasta and helps to thicken almost any sauce. In this recipe, this cooking water is a major component in the sauce, but in other pasta dishes (for example, ones with pesto sauces), the water can be used to extend and lighten the sauce.
Sauteed mushrooms, toasted hazelnuts and slightly caramelized onions add an extra boost of flavor to this vegetarian pasta dish.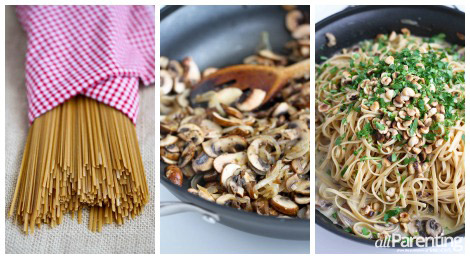 Linguini with mushrooms and a mascarpone cheese sauce
Serves 4
Ingredients:
1 pound linguini
2 teaspoons olive oil
1 small onion, thinly sliced
12 ounces mixed mushrooms (such as crimini), thinly sliced
1/2 cup mascarpone cheese
1/2 cup Parmigiano Reggiano cheese, finely grated
1/3 cup chopped hazelnuts, toasted
1/3 cup minced Italian parsley
1/2 teaspoon salt
1/2 teaspoon ground pepper
Directions:
Bring a large pot of salted water to a boil over high heat. Add the linguini and cook according to package directions or until al dente.
Reserve 1 cup of the pasta cooking liquid. Drain the pasta.
In a large skillet, heat the olive oil over medium heat. Add the onions and cook until the onions are starting to brown, 8 to 10 minutes.
Add the mushrooms and cook until the mushrooms are tender, about 5 minutes.
Add the cup of pasta cooking water and the mascarpone and Parmigiano Reggiano cheeses, and stir until the cheeses melt into a sauce.
Add the pasta and toasted hazelnuts. Toss to coat with the sauce. Season with salt and pepper and toss again. Serve immediately.
Other easy pasta dishes
Pasta primavera with asparagus and spring peas
Penne pasta in vodka sauce with vodka cocktails
Bowtie pasta with chicken, mushrooms and artichokes