Posted: May 31, 2013 5:00 AM
The weather's getting warmer and it's time to set the patio table and dine al fresco. Every outdoor meal needs a good pasta salad, and this one is packed with flavorful shrimp, basil, artichokes and peas.
A summertime barbecue simply is not complete without a really good pasta salad. You know the kind. It's the one that calls to you and practically begs you to sneak a forkful each time you walk into the kitchen. The beauty of a pasta salad is that you can choose from a variety of flavor combinations, picking ingredients that suit your craving of the day.
In this salad, penne pasta (the short tubes) are tossed with shrimp, snap peas and artichokes. And here's a little trick to make preparation as easy as possible: Blanch the shrimp and snap peas together and drain them into the pasta. It takes about a minute to cook the shrimp and snap peas using this method and eliminates the need for extra oil. Toss the ingredients with a light red wine vinegar dressing and, right before serving, gently stir in finely sliced fresh basil for a touch of summertime flavor.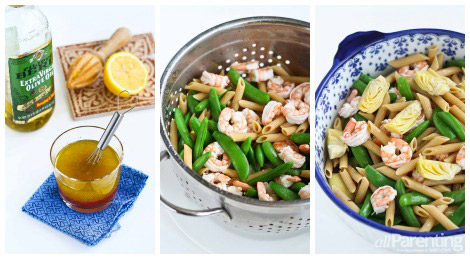 Basil shrimp pasta salad with artichokes and peas
Serves 4
Ingredients:
The dressing:
1/4 cup red wine vinegar
2 tablespoons fresh lemon juice
1/4 teaspoon salt
1/2 teaspoon ground pepper
1/2 cup olive oil
The salad:
13 ounces penne pasta (whole wheat or regular)
2 cups snap peas, trimmed
3/4 pound shrimp, shells and tails removed
1 (14 ounce) can artichokes, cut into quarters
8 leaves basil, thinly sliced
Directions:
The dressing:
In a medium bowl, whisk together the red wine vinegar, lemon juice, salt and pepper. While whisking, slowly pour in the olive oil until combined.
The salad:
Set a large saucepan of salted water over high heat, and bring the water to a boil. Add the penne pasta and cook according to the package directions.

Drain the pasta and rinse with cold water.

Refill the saucepan with water, and bring the water to a boil. Add the shrimp and snap peas, and cook until the shrimp are just cooked through, about 1 minute.

Drain the shrimp and snap peas into the same colander with the pasta and immediately rinse with cold water to stop further cooking.

Transfer the pasta mixture to a large serving bowl, add the artichokes, and stir in the dressing and basil. Serve.

Other pasta recipes
Pasta primavera with asparagus and spring peas
Speedy weeknight broccoli pesto pasta
Garlic lemon prawns and summer squash capellini