Posted: May 20, 2013 5:00 AM
There's nothing quicker than whipping up a batch of couscous, but it can be notoriously bland. This vegetarian meal is anything but bland, with a Moroccan-inspired sauce of orange and cumin, and smoky grilled scallions.
There's an easy way to take couscous from boring to fantastic, using just a few key ingredients. Made with semolina flour and technically considered to be a pasta, couscous is a Moroccan staple. It can be eaten as a side dish, dressed up with some herbs or spices, or made into a vegetarian main course by adding chickpeas (garbanzo beans) and a flavorful dressing made of fresh orange juice and ground cumin.
To add an underlying smoky flavor and a pop of color, quickly sear scallions in a grill pan. Chop them up, along with some fresh cilantro, and toss them with the couscous and chickpeas. For the dressing, be sure to use freshly squeezed orange juice and a good olive oil to achieve the best flavor.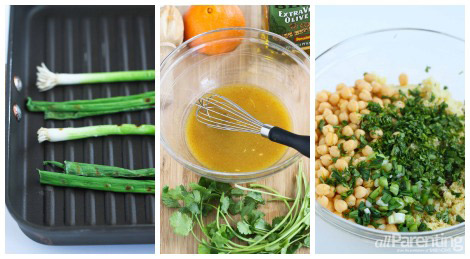 Couscous with grilled scallions, chickpeas and Moroccan sauce
Serves 4
Ingredients:
The dressing:
1/2 cup + 1 tablespoon fresh orange juice
1-1/2 teaspoons ground cumin
1/2 teaspoon salt
1/4 teaspoon ground pepper
3 tablespoons extra-virgin olive oil
The couscous:
2 cups water
1-1/2 cups uncooked couscous
1/3 cup raisins
4 scallions (green onions)
1 (14 ounce) can garbanzo beans (chickpeas), drained and rinsed
1/3 cup chopped cilantro
Directions:
The dressing:
In a small bowl, whisk together the orange juice, cumin, salt and pepper. While whisking, slowly pour in the olive oil until combined.
The couscous:
In a medium saucepan set over high heat, bring the water to a boil. Stir in the couscous and raisins, cover the saucepan and remove it from the heat. Let it rest for 5 minutes, then fluff the couscous with a fork. Transfer to a serving bowl.
Heat a grill pan over medium-high heat and lay the scallions in the pan. Grill the scallions until slightly charred, about 2 minutes per side. Thinly slice the scallions.
Add the scallions, chickpeas and cilantro to the couscous. Pour in the dressing and toss all of the ingredients together. Serve.

Other light dinner recipes
White bean ragout on toas
Quinoa salad with chicken, black beans and chipotle dressing
New Englander chicken salad