Posted: May 22, 2013 5:00 AM
Summer's almost here… and with it comes the perfect weather for indulging in summertime ice pops. Make your own with this super easy recipe with fresh strawberries and bananas. The kids will go crazy for them (and you'll probably love 'em too).
The temperatures are rising (finally!) and the kids are itching to get out of school. It's nearly summertime, and that means it's just about ice pop weather. If your kids are pop crazy (aren't most?!?), then they will adore these easy, fresh ice pops.
Tools for making homemade ice pops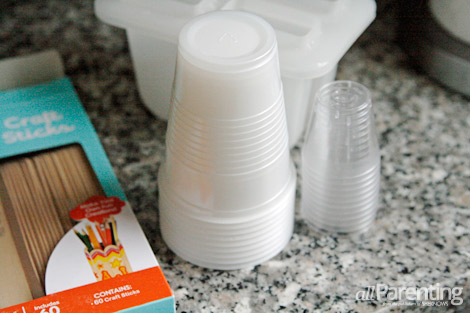 Have you ever made your own ice pops? Don't be intimidated by all the fancy contraptions out there to make it happen. While those ice pop makers and molds are cute (and can make it a speedy process), they are absolutely not necessary to make delicious, refreshing pops for your kids.
You will, however, need something to mold your ice pops in. Inexpensive molds can be purchased in some stores (Target and Walmart often carry them; Amazon does too). They are a good option for creating homemade pops that look like the store-bought ones. However, you don't have to be limited to true ice pop molds. In fact, you can use mini water cups (plastic works best!), mini shot glasses (for mini pops!) or even small plastic cups as your ice pop molds.
You will also need ice pop sticks. Although some molds come with reusable stick things, I prefer using ice pop sticks. They can be found in the craft aisle at your favorite craft store or sometimes in the culinary arts section.
Oh, and a freezer. You, of course, need a freezer too.
Now, ready to make some tasty pops?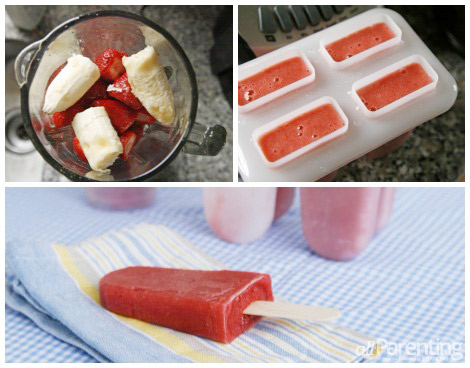 Fresh strawberry banana pops
Yields about 8 ice pops
Ingredients:
Strawberries, stems removed
1 banana, broken into pieces
1/4 cup water
1 tablespoon agave nectar
Directions:
Combine all ingredients in a blender and blend together until it's completely smooth.
Divide the strawberry-banana mixture evenly among ice pop molds. Place in the freezer for 1 hour. Stick ice pop sticks into the center of each mold and return to the freezer until solid, about 3-5 more hours.
Enjoy!
Tips
To release the pops from the molds, dip in hot water briefly.
Forgot to insert the ice pop sticks? No problem. Just let the pops sit at room temperature for 15-20 minutes until you can easily slide a stick into each one. Then return to the freezer to refreeze.
More recipes
Mediterranean chicken naan pizza with pesto and fresh mozzarella
Roasted shrimp with tomatoes and feta cheese
Spicy bacon, leek and corn soup