Posted: May 02, 2013 11:00 AM
Tired from a long day of laundry, cooking and driving the kids around? You deserve a kiss. A chocolate kiss that is. Sit back with your feet up and enjoy this delicious chocolate martini.
Chocolate martinis are smooth, delectable and downright delicious. It is the perfect sweet treat to sip on. While there are endless variations of the chocolate martini, this sweet version is both creative, sophisticated and can be enjoyed at any time of the day! Hosting a morning brunch? Set up a mini dessert buffet with little chocolate delights! Or sit back at the end of a long day and savor a sweet chocolate kiss!
Chocolate kiss martini
Serves 1
Ingredients:
2 ounces vodka or vanilla vodka
1 ounce creme de cacao
1 ounce Godiva chocolate liqueur
1/2 ounce half-and-half cream
Chocolate syrup
Chocolate kiss candy
Directions:
Place the vodka, martini shaker and a martini glass in the freezer for 30 minutes.
Put some chocolate syrup on a small dish and invert the glass into the syrup to coat the rim.
Fill your martini shaker with ice. Add the vodka, creme de cacao, Godiva chocolate liqueur and half-and-half cream to shaker and shake vigorously until well combined.
Strain into your chilled prepared glass.
Garnish with a grated chocolate kiss candy and enjoy!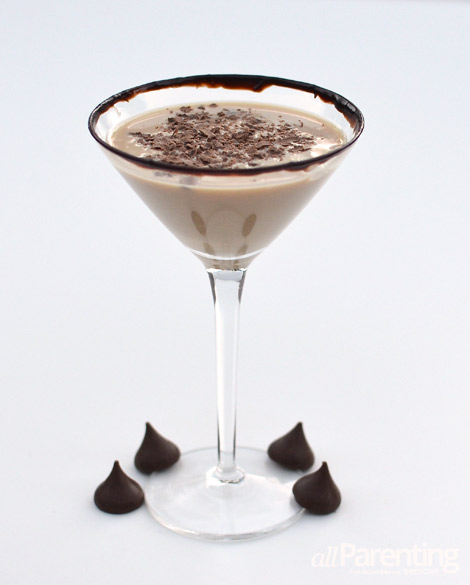 More martinis to try
Classic dirty martini
Limoncello martini
Flamingo martini cocktail