Posted: May 23, 2013 6:00 AM
Decadent, spicy and crunchy, these crispy crab wontons are lip smacking and delicious. Loaded with fresh crab meat and heated up with spicy sriracha sauce for extra flavor, these crispy appetizers are perfect for any get together. Everyone will love the Asian flair of this crispy appetizer!
A spicy seafood appetizer is perfect to serve at your next dinner party. Don't be afraid to make your own wonton chips. They are easy to make, and when baked in the oven, are healthier than takeout or store-bought fried wonton chips.
Crispy crab wonton appetizer
Ingredients:
Package fresh wonton wrappers
Nonstick cooking spray
Kosher salt
8 ounces real crab meat
1/4 cup mayonnaise
2 teaspoons sriracha sauce
1 teaspoon fresh cilantro, finely chopped
2 teaspoons chives, finely chopped
1 green scallion, green part only, finely chopped
1/4 teaspoon lemon zest
Fresh cilantro for garnish
Directions:
How to make crispy wonton chips:
Heat oven to 425 degrees F.
Cut wonton wrappers in half to make triangles.
Place wonton wrappers on a baking sheet coated with nonstick cooking spray. Lightly spray the top of wonton wrappers with nonstick spray and sprinkle with kosher salt.
Bake for 3-4 minutes, until lightly browned.
How to make crab wonton topping:
In a mixing bowl, combine crab, mayonnaise, sriracha sauce, chopped cilantro, chives, scallions and lemon zest.
Stir to combine and check seasoning for salt, adding as desired.
Top a spoonful of crab mixture onto crispy wonton chip.
Garnish with fresh cilantro.
Serve and enjoy!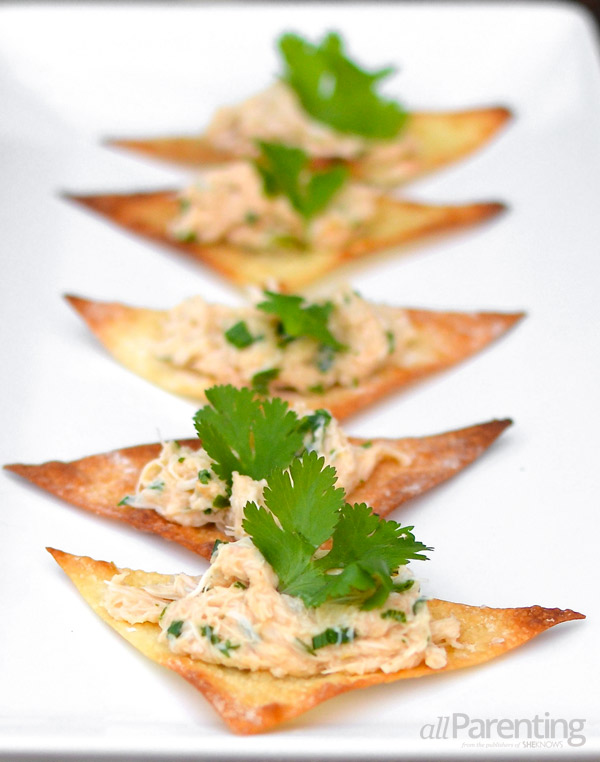 More appetizers to try
3 Easy party dip appetizer recipes
Pineapple shrimp salad endive spears
Mason jar layered bean dip