Posted: Jun 10, 2013 5:00 AM
Whether you are serving up breakfast for dinner or entertaining friends for brunch, nothing satisfies better than light, fluffy pancakes. These ones are made with whole wheat flour and topped with a fruity sauce.
Breakfast for dinner is bound to be a favorite in any busy parent's recipe arsenal, and these whole wheat pancakes with strawberry sauce are a healthy option that will leave your family well fed and content. Of course, these light and fluffy pancakes shouldn't just be relegated to the "quick dinner" category. They make a beautiful, crowd-pleasing dish that is worthy of any weekend brunch menu.
The pancakes can be made using regular whole wheat flour. However, you can achieve an even lighter texture with whole wheat pastry flour, found in most high-end grocery stores. Greek yogurt adds not only moisture, but a slightly tangy flavor that complements the sweetness of the strawberry sauce. And the strawberry sauce? Prepare to catch your kids sneaking tastes of it while you're not looking.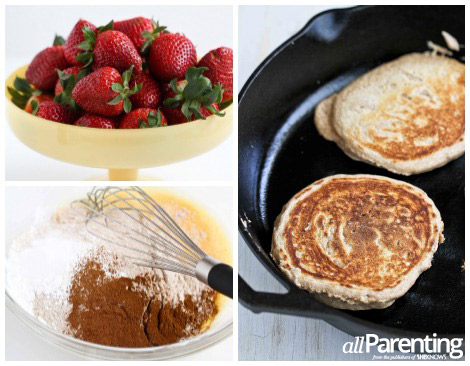 Whole wheat pancakes with fresh strawberry sauce
Makes approximately 12 (6-inch) pancakes
Ingredients:
The sauce:
16 ounces strawberries, hulled and quartered
2 teaspoons fresh lemon juice
1/4 cup granulated sugar
The pancakes:
2 large eggs
2 cups whole wheat flour
1-1/2 cups skim milk (or more if batter is too thick)
1 tablespoon maple syrup (or honey, agave nectar or brown sugar)
2 tablespoons baking powder
1-1/2 teaspoons ground cinnamon
1-1/2 teaspoons ground ginger
1/2 teaspoon salt
Directions:
The sauce:
In a medium saucepan, combine strawberries, lemon juice and sugar. Bring to a boil and stir until the sugar is dissolved. Reduce heat and simmer for 5 minutes. Set aside.
The pancakes:
In a large bowl, whisk 1 large egg. Add the flour, milk, brown sugar, baking powder, cinnamon, ground ginger and salt. Mix well.
Heat a frying pan over medium-high heat or heat a griddle to 375 degrees F. Using a 1/3 cup measuring cup, scoop the batter onto the griddle. When the pancakes start to bubble on top, flip them over and cook until the batter is cooked all the way through.
Serve with the fresh strawberry sauce.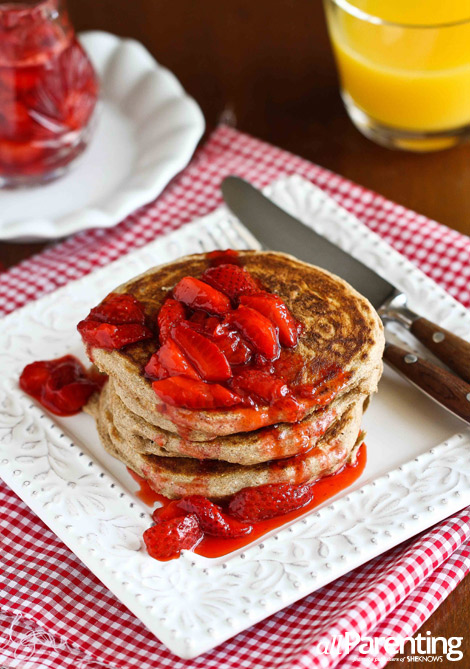 Other breakfast recipes
Mason jar breakfast parfait
Applesauce breakfast crumb cake
Walnut flax waffles