Posted: Jun 05, 2013 5:00 AM
Fresh spring rolls may look fancy, but they could not be easier to put together. Mix together tender rice noodles with chicken and vegetables, roll them in a spring roll wrapper and serve with a soy dipping sauce.
When it comes to light summer meals, it's time to shake things up a bit. If you are looking for something a little different for your next meal, these spring rolls might be just the thing. Kids will love them because it is one of the times they are allowed to eat with their hands. Parents will love them because the recipe calls for cooked chicken — that could be a store-bought rotisserie chicken — and the noodles and sauce can be made ahead of time.
Rice noodles and spring roll wrappers can be found in most supermarkets. Toss the cooked rice noodles, which take a mere two minutes to cook, with the shredded chicken and sliced vegetables. Just before eating, soak each spring roll wrapper in warm water, fill them with some of the noodle mixture, wrap and roll. Form a family assembly line to make short work of the process.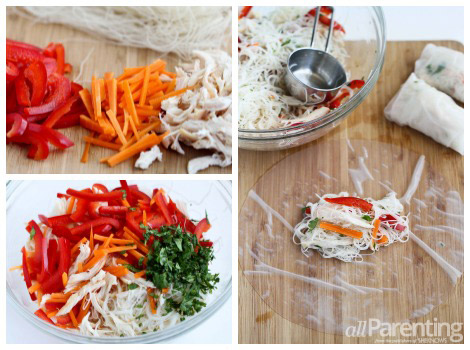 Spring rolls with rice noodles & chicken
Serves 4 to 6
Ingredients:
The wraps:
4 ounces rice noodles
1 cooked skinless chicken breast, shredded
1/2 red bell pepper, cut into thin strips
1 carrot, cut into matchsticks
3 tablespoons minced cilantro
16 spring roll wrappers
The sauce:
1/3 cup soy sauce
1 tablespoon rice vinegar
2 teaspoons grated fresh ginger
Directions:
The rolls:
Set a large saucepan of water over high heat, and bring the water to a boil. Add the rice noodles and cook according to package directions. Drain and rinse in cold water. Using kitchen shears, cut the noodles into small pieces.
In a medium bowl, combine the rice noodles, shredded chicken, red bell pepper, carrots and cilantro.
Fill a shallow baking dish with hot water. Working with 1 spring roll wrapper at a time, soak the wrapper in the hot water until soft. Place the wrapper on a cutting board.
Scoop 1/4 cup of the noodle mixture into the middle of the wrapper, fold in the sides and roll tightly. Repeat with remaining wrappers and rice noodle mixture. Serve with the dipping sauce.
The sauce:
In a small bowl, stir together the soy sauce, rice vinegar and grated ginger.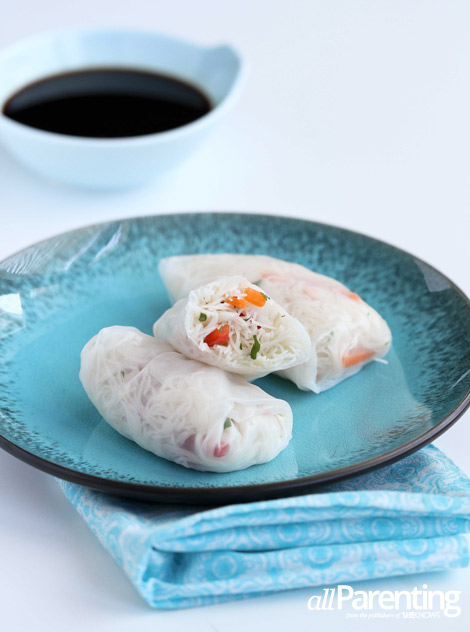 Other light lunch or dinner ideas
Quinoa salad with chicken, black beans and chipotle dressing
5-Ingredient dinner: Spinach salad with grilled salmon
Mason jar layered salads