Posted: Jun 27, 2013 5:00 AM
The aromas of this roasted chicken will beckon your family into the kitchen. The tender, roasted fennel adds a subtle anise flavor and will even turn your kids into fennel lovers.
Even as summer arrives, there is still the occasional cool evening that begs for nothing less than a hearty, comforting meal. And better yet, a comfort meal that requires only one pan. If the word "fennel" is something that immediately makes you question your cooking prowess, don't fret. If you can cut off fronds and then cut the bulb into wedges, then you can cook with fennel. When roasted, the distinct anise flavor of this vegetable mellows considerably.
Chicken thighs are flavorful and inexpensive parts of the chicken that retain their moisture when roasted. Nestle them among the fennel wedges and crushed garlic cloves, and roast until tender and juicy while the fennel and garlic caramelize and become slightly sweet. A dash of dried oregano and a light lemon vinaigrette bring fresh summertime flavors to the dish.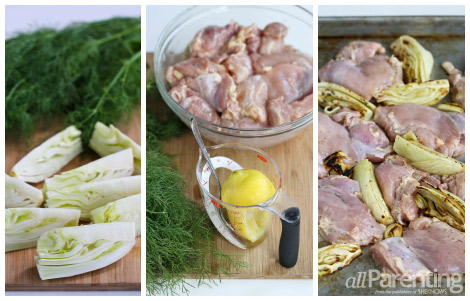 Roasted chicken thighs with lemon, fennel and oregano
Serves 4
Ingredients:
Juice of 1 lemon (about 3 tablespoons)
3 tablespoons olive oil
2 bulbs fennel, fronds removed, bulbs cut into eighths, leaving the roots intact
6 cloves garlic, crushed
8 boneless, skinless chicken thighs, fat trimmed
1/2 teaspoon salt, divided
1/2 teaspoon ground pepper, divided
1 teaspoon dried oregano
Directions:
Preheat the oven to 425 degrees F.
In a small bowl or measuring cup, whisk together the lemon juice and olive oil.
Place the fennel wedges and garlic cloves in 1 bowl, and the chicken thighs in another bowl. Pour half of the lemon vinaigrette over the fennel and half over the chicken. Toss each to coat.
Divide the salt and pepper evenly between the fennel and chicken. Sprinkle the dried oregano over the chicken. Toss each to coat.
Lightly coat a baking sheet with cooking spray. Transfer the fennel and garlic to the baking sheet and roast for 15 minutes.
Turn over the fennel and garlic, and nestle the chicken thighs between them. Roast until the chicken is just cooked through, 15 to 20 minutes. Transfer to a serving dish. Serve.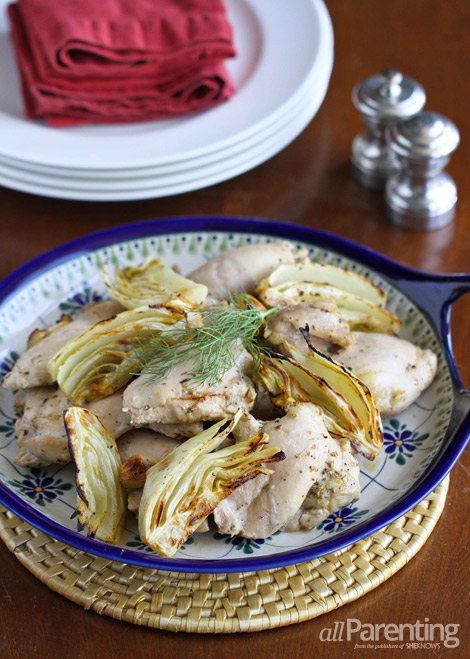 Other chicken recipes
Chicken enchiladas with black beans, corn and red pepper
Mediterranean chicken naan pizza with pesto & fresh mozzarella
Quick Mexican chicken and polenta recipe