Posted: Jun 06, 2013 12:00 PM
Fresh berries are all over the place. From the farmers market to your own backyard garden, these delicious fruits are just waiting for you. Get out the muddler, your favorite vanilla vodka and prepare yourself to enjoy summer's finest fruit in this berry stomp cocktail.
As a cocktail lover, summer is my favorite season because of all the fresh fruit. During my trips to the farmers market, I stock up on every organic berry available, and they are usually gone from my house within a couple of days. I use these seasonal goodies in various cocktails such as blackberry mojitos and raspberry lemon drop martinis. Basically, if it's a cocktail, I'm going to try and put fresh fruit in it.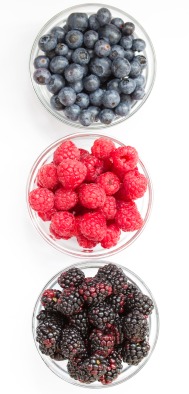 This berry stomp cocktail is no exception. The drink was inspired by three of my favorite little berries: blueberries, blackberries and raspberries.
I used vanilla vodka for the drink to give it a very smooth, creamy taste. It reminds me of my go–to summer dessert, berries topped with a dollop of mascarpone cheese. My favorite vanilla vodka is 360 Madagascar Vanilla, but it's very hard to find. Absolut also makes a good one and it's available in every liquor store I've ever been to and online at BevMo!.
Also added to the mix is Grand Marnier, an orange liqueur, which pairs well with the smooth vanilla and the fresh berries. Finish the drink with soda (or mineral) water for bubbles.
Garnish with some more fresh berries and you have a deliciously pretty libation for enjoying on those hot summer days. Cheers!
Berry stomp cocktail
Serves 1
Ingredients:
4 blackberries, rinsed
4 raspberries, rinsed
5 blueberries, rinsed
1-1/2 ounces vanilla vodka
1 ounce Grand Marnier
Soda water
Ice
Additional berries for garnish
Directions: 
Muddle the berries in a cocktail shaker.
Add the vanilla vodka and Grand Marnier with ice.
Shake and strain into a rocks glass filled with ice.
Top with soda water.
Garnish with 3 berries on a skewer.

More fresh fruit cocktails
Strawberry patch cocktail
3 Bellini recipes for brunch
Strawberry mojito recipe