Posted: Jun 17, 2013 6:00 AM
Change up that boring hard-boiled egg in your spinach salad with a satisfying fried egg. Using a fried egg, the yolk mixes with the salad greens for extra dressing creaminess. Top with crunchy bacon, rustic bread chunks and drizzle with a Dijon mustard vinaigrette for a delectable meal.
Salty bacon and crunchy croutons topped with a delicious runny egg? Yes, please! There is nothing better than a weeknight dinner that is easy, fast, and most importantly, scrumptious. Making your own homemade croutons is seamless and they'll taste so much better than store-bought croutons. Use the Dijon vinaigrette below or experiment with different salad vinaigrettes to find your favorite!
Homemade croutons
Ingredients:
1 French baguette
Olive oil
Directions:
Preheat oven to 425 degrees F.
Cut French baguette into crouton size pieces. Place on a baking sheet and drizzle with olive oil. Using hands, toss to coat.
Bake in oven for 6 to 8 minutes until slightly brown and crunchy.
Set aside.
Spinach salad with fried egg and bacon
Serves 4
Ingredients:
1 (6-8 ounce) bag baby spinach
6-8 slices bacon
4 large eggs
1/4 cup extra virgin olive oil
1 small garlic clove, minced
1-1/2 tablespoons red wine vinegar
1-1/2 teaspoons Dijon mustard
1 teaspoon fresh lemon juice
Kosher salt and freshly ground pepper
Directions:
Heat a skillet over medium heat. Cook the bacon on both sides until brown and crispy. Transfer bacon to a paper-towel lined plate. Leave the bacon fat on the skillet and turn the heat on the stove off.
Meanwhile in a small bowl, whisk together garlic, vinegar, mustard and lemon juice. Slowly whisk in olive oil. Set aside.
Put spinach and croutons in a large bowl. Add a little vinaigrette, just enough to coat the greens and sprinkle with a little salt and pepper. Divide the salad among four plates.
Reheat the bacon fat in the skillet and crack the eggs into the pan and sprinkle with salt and pepper. Fry sunny-side up, 1 to 2 minutes.
Top each salad with an egg.
Tear bacon up into pieces and put on salad.
Serve immediately and enjoy!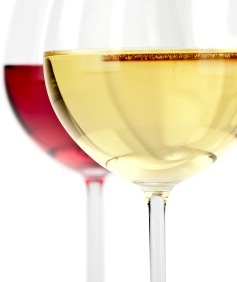 Rachel's suggested wine pairing

My absolute favorite wine to pair with a green salad or an egg dish is Grüner Veltliner. Eggs tend to make wine taste flabby and flat, but the high acid in Grüner Veltliner wine makes it an excellent match. Grüner Veltliner wine is fresh, bright, has clean botanical nuances, nice melon and citrus notes and usually has a lively white pepper on the finish. If you can't find Grüner Veltliner, pair this salad with sparkling wine! You can't go wrong with bubbles!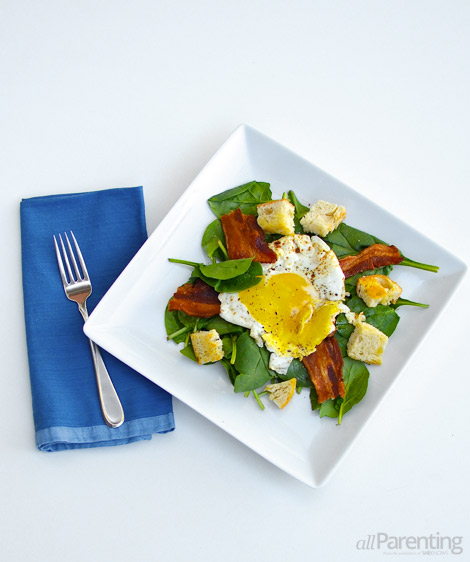 More salad recipes to try
Mason jar layered salads
5-Ingredient dinner: Spinach salad with grilled salmon
5-Ingredient dinner for the busy mom: Grilled chicken and arugula salad