Posted: Jun 03, 2013 6:00 AM
Think thin with a heart healthy vegetable quinoa salad. Add an extra thinness to the dish by shaving those veggies into skinny strips for added flair and uniqueness. So grab your vegetable peeler or mandolin and let's get shaving!
Quinoa is a healthy alternative to rice and cooks in just about 15 minutes. While quinoa is usually considered a whole grain, it is actually a seed, but can be prepared like whole grains such as rice or barley. It's tasty, light, easy to digest and is a perfect addition to salads. Not only is quinoa good for your health, it adds a little of that crunch factor that we all love so much in salads.
Shaving vegetables for this salad adds uniqueness and extends the color throughout the salad. Choose your favorite salad vinaigrette, toss altogether and pat yourself on the back for eating such a healthy meal!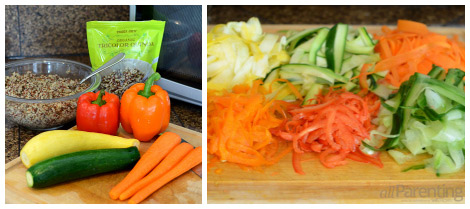 Summer vegetable quinoa salad
Ingredients:
1 cup uncooked quinoa
2 carrots, peeled
1 red bell pepper
1 orange bell pepper
1 zucchini squash
1 yellow squash
1 English cucumber
Your favorite salad vinaigrette
Directions:
Cook quinoa according to package directions. Transfer to a large mixing bowl and set aside to cool.
Using a vegetable peeler or mandolin, shave the carrots, bell peppers, zucchini squash, yellow squash and cucumber into long, thin strips.
Add vegetables to mixing bowl with quinoa. Toss to combine with your favorite salad vinaigrette.
Serve and enjoy!
Be a clever chef!
Add crumbled feta cheese on top of the salad for some added zest!
Add sliced grilled chicken or turkey cutlets for added protein.
Toss in some baby spinach for greenness.
Make during the fall, winter or spring as well with seasonal vegetables!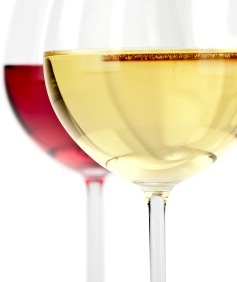 Rachel's suggested wine pairing

Vegetable-focused dishes like this quinoa and summer vegetable salad are terrific with sauvignon blanc's lightly herbal, citrusy flavors. Pour something from New Zealand's Marlborough region or a Sancerre from France.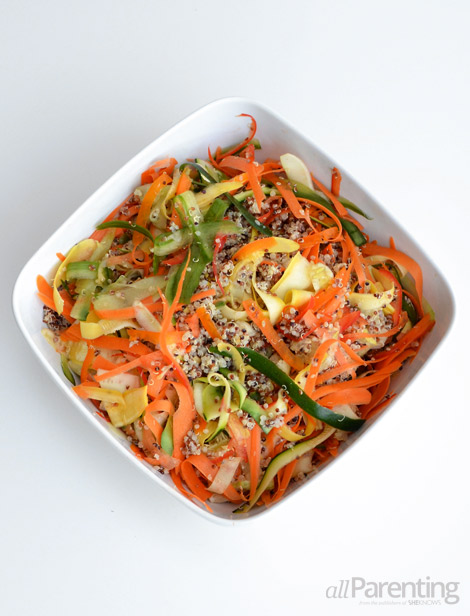 More salad recipes to try
Mason jar layered salads
Chicken enchilada salad bowls
Grilled chicken and arugula salad