Posted: Jun 11, 2013 8:00 AM
Delicious baked sugar and cinnamon apples layered in a Mason jar with a crunchy crumbled cookie and homemade whipped cream? Yes please! What more could you ask for in a dessert?
Get creative with dessert by layering flavorful ingredients into a Mason jar! Homemade Granny Lowe cookies are even more delicious when added to sweet and creamy homemade whipped cream and cinnamon spiced baked apples! My grandmother's Granny Lowe cookies are a family favorite. Just like a short bread cookie, they are perfect to use for Mason jar stacking!
Mason jar layered apple crumble cookie desserts are fun for just the family but also an easy dessert to make for entertaining. Just pop in the fridge and pull them out when it's dessert time! Now it's time to put all of the pieces together!
Baked apples
Ingredients:
1/2 pound sliced apples, about 25 to 30 slices
1 tablespoon softened butter
Ground cinnamon
Granulated sugar
Directions:
Preheat oven to 350 degrees F.
Place sliced apples into shallow baking dish.
Spread butter evenly over top side of sliced apples.
Sprinkle with cinnamon and sugar.
Bake in oven for 25 to 30 minutes until apples are soft.
Remove from oven and set aside.
Whipped cream
Ingredients:
2 cups heavy whipping cream
2 teaspoons vanilla extract
2 tablespoons powdered sugar
Directions:
In a large bowl, whip cream until soft peaks are formed.
Add vanilla and powdered sugar and whip until peaks form.
Place bowl in refrigerator to keep cold until ready to use.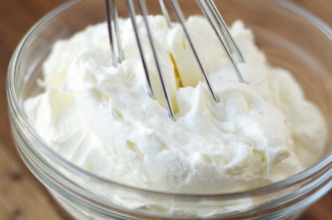 Granny Lowe cookies
Ingredients:
1 egg
3/4 cup sugar
1/2 teaspoon baking soda
1/2 cup butter
1 teaspoon vanilla
2 tablespoons buttermilk
2 1/2 cups all-purpose flour
Directions:
Preheat oven to 350 degrees F.
In food processor, beat egg, sugar, baking soda, butter and vanilla until creamy. Add flour and buttermilk alternatively until it has the right consistency to roll out.
Using a rolling pin, roll the dough out and cut into 1/4 inch round cookies.
Bake until cookies are golden brown around the edges, about 15 to 20 minutes.
Cool cookies for 5 minutes on cookie sheets; remove to wire rack. Cool completely.
Now it's time to assemble the Mason jar layered apple crumble cookie desserts!
Directions:
In a small Mason jar, spoon some homemade whipped cream to cover the bottom.
Crumble 1 Granny Lowe cookie on top of whipped cream.
Place 3 to 4 baked apple slices on top of crumbled cookie.
Spoon more whipped cream into Mason jar.
Crumble another Granny Lowe cookie over whipped cream and top with 2 apple slices.
Serve and enjoy!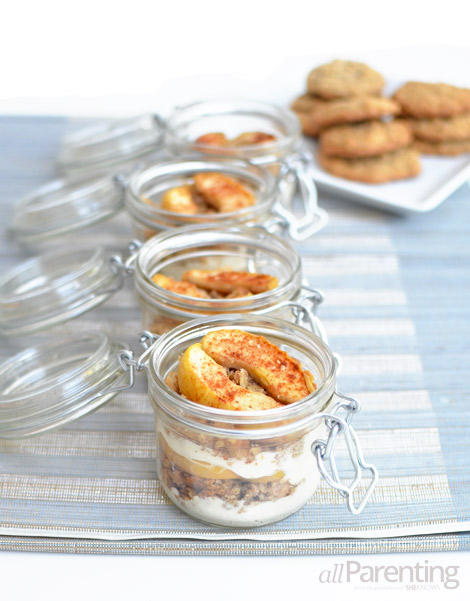 More desserts to try
Chocolate Kahlua cake
How to make a basic chocolate soufflé
Apple Snickers trifle