Posted: Jul 31, 2013 11:00 AM
Nothing is more refreshing on a hot summer night than some nice cold sorbet. Pink sorbet topped with a little tequila and triple sec is a quick dessert made simple for easy summer entertaining.
It's a hot summer evening outside and you are tired of serving the same old vanilla ice cream and ice pops for dessert. Why not make a homemade raspberry sorbet with a margarita twist? A make-ahead dessert that the whole family can enjoy is a must for an easy summer dessert and entertaining. Adding the tequila and triple sec at the end ensures that the kids will be able to enjoy the homemade raspberry sorbet as well.
If you don't have a homemade ice cream maker, just pour the raspberry mixture into a large glass bowl and freeze.
Quick raspberry margarita sorbet
Ingredients:
2 (12 ounce) bags frozen raspberries, partially thawed
1 (12 ounce) container frozen limeade concentrate
1-1/4 cups sugar
Tequila and triple sec for serving
Directions:
In a blender or food processor, combine raspberries, limeade concentrate and sugar. Process until smooth.
Transfer raspberry mixture to ice cream maker and follow manufacturer's directions. Transfer to bowl, cover and freeze until solid.
If you don't have an ice cream maker, pour raspberry mixture into glass bowl and freeze.
Can make up to 3 days in advance.
To serve, soften a little and scoop sorbet into serving dishes.
Drizzle with 2 teaspoons of tequila and 1 teaspoon of triple sec.
Garnish with fresh raspberries. Serve and enjoy!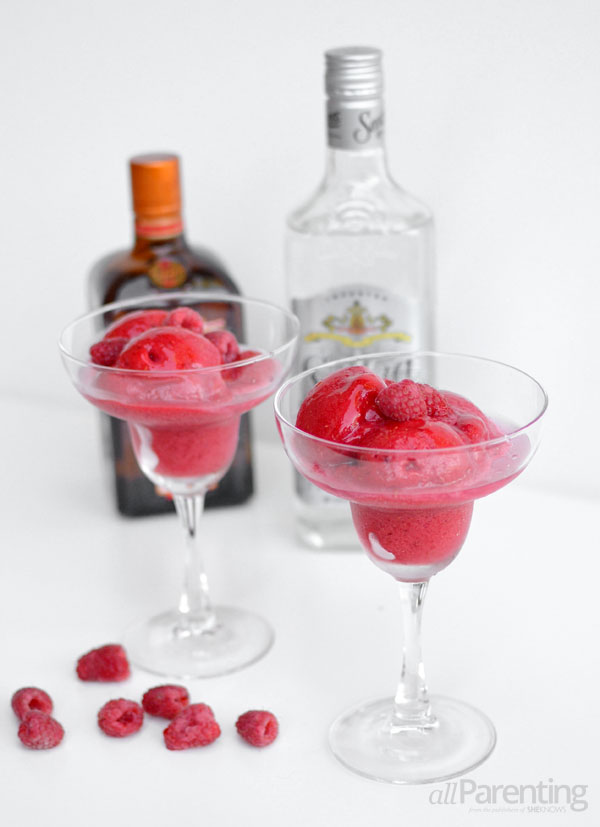 Looking for more dessert or cocktail recipes?
More desserts to try
Mason jar layered apple crumble cookie dessert
How to make a basic chocolate soufflé
Chocolate Kahlua cake