Posted: May 24, 2013 12:00 PM
Memorial Day is a time to celebrate the Americans who gave their lives to keep our country safe. It's also the unofficial start of the summer season. So, gather your friends and family, heat up the grill and celebrate this very special day. Just don't forget to make these red, white and blue ice pops. With both alcoholic and non-alcoholic versions, they are sure to refresh every last guest.
Memorial Day celebrations are the kickoff of summer. Filled with good company, barbecue and time outside, it's hard to not have a great day. While spending time in the sun, you'll need something refreshing to cool you and your guests down. These ice pops filled with fresh berries will do just that – plus they are festive with the colors of red, white and blue!
You'll want to start these ice pops early because they need time to freeze for at least three to four hours before serving. For the kid-friendly version, use any light or clear beverage such as white grape juice or flavored sparkling mineral water. For the adult version, use any low proof clear liquor such as Bacardi coconut rum or Smirnoff whipped cream vodka.
Red, white and blue ice pops
Serves 6
Ingredients:
Organic blueberries
Organic raspberries
White grape juice or other clear liquid
Bacardi coconut rum or any other clear, low proof liquor.
Water
Dixie cups
Ice pop sticks
Directions:
Fill Dixie cups halfway with a combination of blueberries and raspberries.
For the adult ice pops, mix equal parts of low proof liquor with water and fill Dixie cups, leaving room at the top.
For the kid-friendly ice pops, fill the Dixie cups with white grape juice or any other clear liquid, leaving room at the top.
Insert ice pop sticks.
Place the ice pops in the freezer for three to four hours until thoroughly frozen.
Before eating, remove the Dixie cups and enjoy your ice pop treat!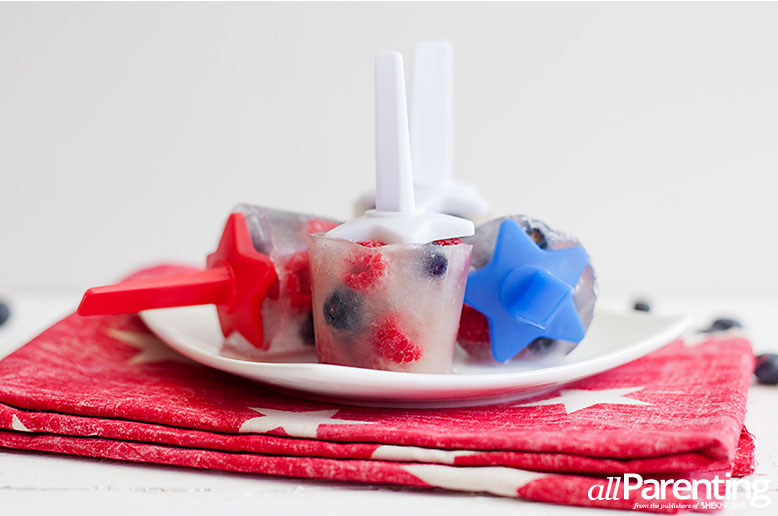 More cool treats for entertaining
Clever ice cube recipes
Ice cream social
Ice cream sandwich recipes