Posted: Jul 08, 2013 5:00 AM
Your jeans and taste buds will thank you for this baked version of fried chicken. Pack up a container of this chicken, along with your favorite potato salad, for a summertime picnic.
Fried chicken is a classic for summertime picnics. However, if you are trying to rock those cute capris that you bought last week, "fried" may not be in your vocabulary right now. This healthier version has the crunch of the original version without the extra fat. The chicken pieces — skinless, of course — are dipped in a buttermilk mixture spiked with paprika and hot sauce, and then dredged in a mixture of crushed corn flakes and finely chopped pecans.
While the tender chicken is satisfying on its own, it is the savory and sweet buttermilk, Dijon mustard and honey sauce that turn this into a memorable picnic dish.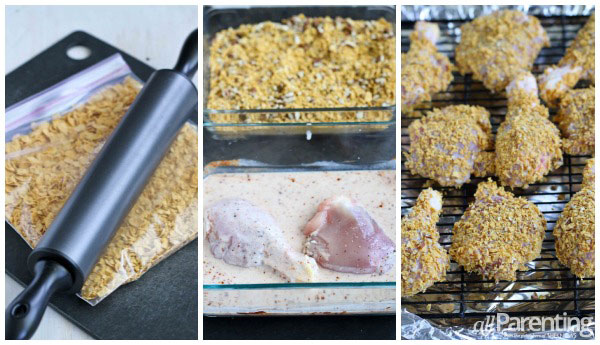 Crispy oven-fried chicken
Serves 6
Sauce recipe adapted from Cooking Light magazine
Ingredients:
The chicken:
4 chicken thighs, skin removed
4 chicken drumsticks, skin removed
1/2 teaspoon salt
1/2 teaspoon ground pepper
4 cups corn flakes cereal
1/3 cup finely chopped pecans
1 cup low-fat buttermilk, well-shaken
1 tablespoon Dijon mustard
1 teaspoon paprika
1/2 teaspoon hot sauce
The sauce:
3 tablespoons low-fat buttermilk, well-shaken
1 teaspoon honey
1 teaspoon Dijon mustard
1/4 teaspoon hot sauce
1/4 teaspoon salt
Directions:
The chicken:
Preheat the oven to 400 degrees F. Line a baking sheet with foil and place a rack on the baking sheet. Coat the rack with cooking spray.
Season the chicken thighs and drumsticks with salt and pepper.
Place the corn flakes in a Ziploc bag. Seal the bag and, using a rolling pin, crush until the cereal is in very small pieces. Pour the crushed cereal into a shallow dish, along with the chopped pecans.
In a second shallow dish, whisk together the buttermilk, Dijon mustard, paprika and hot sauce.
Working with 1 piece of chicken at a time, dip the chicken into the buttermilk mixture, and then transfer to the cereal mixture. Turn until the chicken is well-coated. Place it on the prepared rack.
Repeat with the remaining pieces of chicken, buttermilk mixture and cereal mixture.
Bake until the chicken is cooked through and the juice runs clear when the chicken is pierced with a fork, approximately 35 minutes. Serve with the sauce.
The sauce:
I

n a small bowl, whisk together the buttermilk, honey, Dijon mustard, hot sauce and salt. Drizzle over the chicken.

Other summertime recipes
Healthy potato salad with radishes & vinaigrette
Grilled chicken with rhubarb chutney
Honey soy grilled salmon with edamame