Posted: Jun 07, 2013 7:00 AM
Want to add a little fun to your next Italian gathering? Check out these adorable spaghetti and meatballs cupcakes! They are easy to make and will be a hit with the whole family.
Contributed by Lisa Smiley
Come on, admit it — you love a good prank. And who doesn't love a sweet cupcake? These spaghetti and meatballs cupcakes will not only bring a smile, but they will disappear quickly.
Spaghetti and meatballs cupcakes
Recipe adapted from Hello, Cupcake!
Ingredients:
White cake mix (box or favorite recipe)
White or yellow cupcake liners
Vanilla frosting (homemade or store-bought)
Cocoa powder
Yellow food coloring
Hazelnut chocolates (Ferrero Rocher)
Red berry preserves (low sugar seems to have the best color)
Frosting bag and small round hole tip
Directions:
Prepare white cake mix and bake as cupcakes, using white or yellow liners.
Prepare frosting by tinting with a bit of cocoa powder and a few drops of yellow food coloring. This will be the "spaghetti" noodles and base frosting.
Spread a thin layer of frosting on the cupcakes and then put the rest into a frosting bag with a small round hole tip. You can use whatever size you'd like, depending on how large you want your spaghetti strings to be, but try to make them realistic.
Here is where the fun begins! Pipe the frosting in fun squiggles all over the cupcakes. When doing a batch, it's best to put them on a platter all together and just pipe them as one big platter. Pile it high on some and even go over the side of the cupcakes if you'd like!
Put the hazelnut chocolates in a bowl and toss them with about a cup of red berry preserves.
After coating the chocolates, pile some preserves on each cupcake and top with the chocolate meatballs.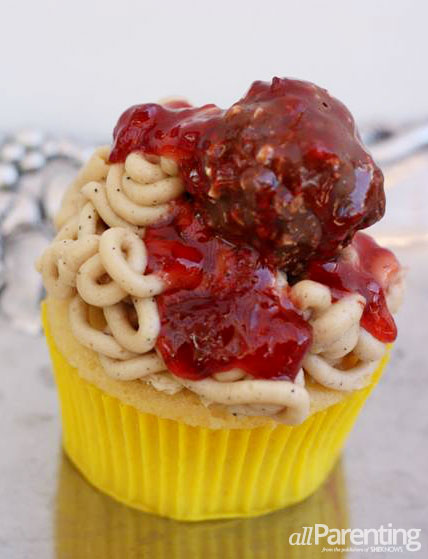 Lisa Smiley is a former lawyer who turned her passion for photography into her dream career. She has an incurable sweet tooth and an infectious smile — which suits her name perfectly.
More sweet treats
Cute slider cupcakes
Mexican hot chocolate cupcake recipe
Salted caramel mocha cupcakes