Posted: Jul 15, 2013 5:00 AM
These hearty vegetarian burgers will satisfy vegetarians and meat lovers alike. Grill the portobello mushrooms until tender and juicy, and top with a bright chimichurri sauce.
Meaty and satisfying is how many people describe portobello mushrooms. Even though portobello burgers make for a fantastic vegetarian entrée, you certainly don't need to be a vegetarian to enjoy them. When topped with a bright and simple chimichurri sauce, which proudly hails from Argentina, the burgers turn into a memorable meal. The sauce has a base of parsley and fresh oregano, and gets a kick from raw garlic and red pepper flakes.
To give the mushrooms an extra layer of flavor, marinate them in a simple mixture of balsamic vinegar, olive oil, salt and pepper. Once the mushrooms are on the grill, they take only four minutes per side to cook. Layer them on hamburger buns, along with the chimichurri sauce, mozzarella cheese and fresh tomato slices.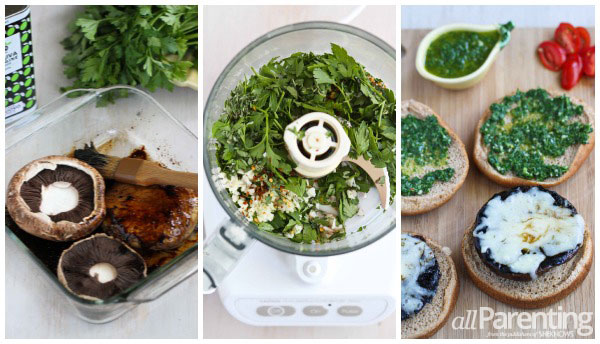 Grilled portobello mushroom burgers
with chimichurri sauce
Serves 4
Ingredients:
The burgers:
3 tablespoons balsamic vinegar
1/3 cup extra virgin olive oil
1/4 teaspoon salt
1/4 teaspoon pepper
4 portobello mushrooms, stems removed
1/3 cup grated mozzarella cheese
4 hamburger buns, regular or whole wheat
2 Roma tomatoes, sliced
The sauce:
3/4 cup (packed) roughly chopped Italian parsley
2 cloves garlic, minced
1-1/2 tablespoons red wine vinegar
1 tablespoon minced fresh oregano
1/8 teaspoon salt
1/8 teaspoon crushed red pepper flakes
1/4 cup extra virgin olive oil
Directions:
The burgers:
In a wide, shallow dish, whisk together the balsamic vinegar, olive oil, salt and pepper. Add the portobello mushrooms, turn to coat and let rest for 30 minutes.
Preheat the grill, grill pan or cast-iron pan to medium-high heat.
Place the mushrooms on the grill or pan, gill side down, and cook until the mushrooms are tender, 3 to 5 minutes per side (depending on the thickness of the mushrooms).
In the last 2 minutes of cooking, divide the cheese between the mushrooms.
Spread 1 tablespoon of the chimichurri sauce on each of the 4 hamburger buns. Place 1 mushroom and some of the tomato slices on each burger. Serve.
The sauce:
In the bowl of a food processor or blender, place the parsley, garlic, red wine vinegar, oregano, salt and red pepper flakes. Pulse 1 or 2 times just to combine.
Add the olive oil and pulse a few more times, until the sauce is combined and chunky.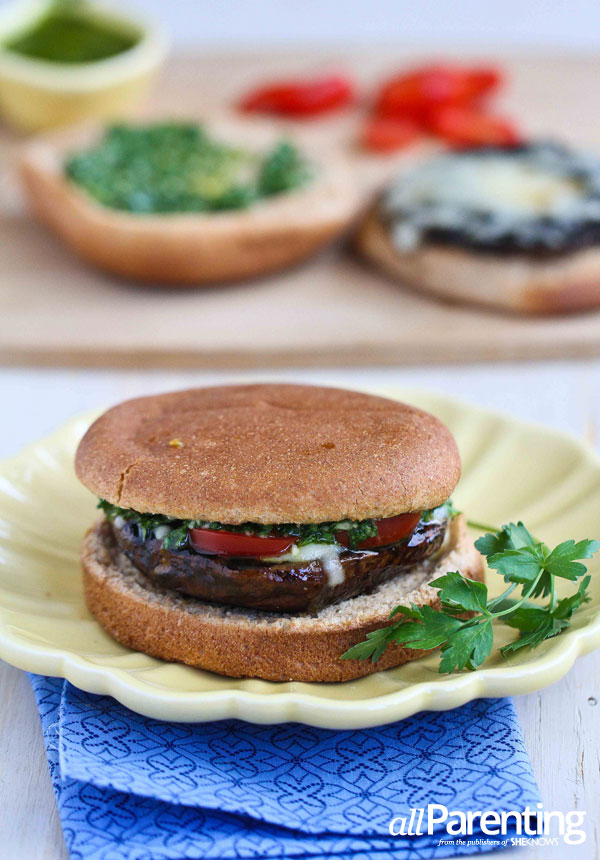 Hungry? Scroll through our delicious recipes!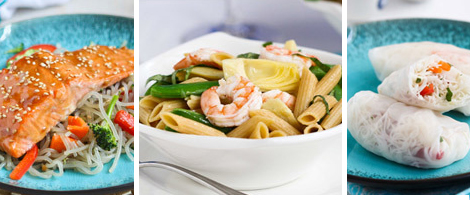 Other light dinner recipes
Couscous with grilled scallions, chickpeas and Moroccan sauce
Grilled chicken with rhubarb chutney
Chicken enchilada salad bowls