Posted: Nov 02, 2013 5:00 AM
Whether you are looking for a light, easy dinner or something a little different to serve at your next barbecue, this rice noodle salad will fit the bill. Shrimp, fresh mint and a soy dressing round out the flavors of the salad.
There are days when the clock hits 6 o'clock and dinner is no closer to being on the table than when you first woke up. Of course, there is always takeout. However, if you are looking for something a bit more economical and a whole lot healthier, turn to something like this rice noodle salad. After making it the first time, you will likely convince yourself to stock your pantry and freezer with the necessary ingredients so that you can make this at a moment's notice.
Rice noodles can be found in the Asian section of most supermarkets and take mere minutes to cook. While you are prepping the shrimp and the red bell pepper, recruit the kids to shell the edamame. Toss all of the ingredients together with a light soy dressing, and voila... dinner is done.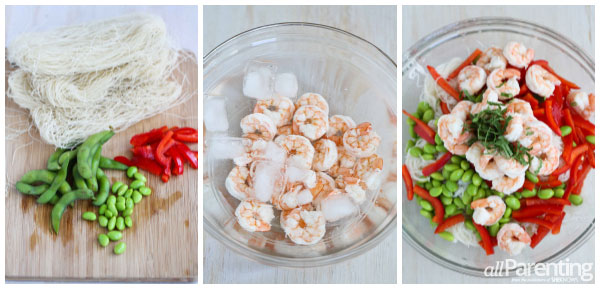 Rice noodle salad with shrimp and fresh mint
Serves 4
Ingredients:
1 (8 ounce) package rice noodles
9 ounces edamame (shells on)
1/2 pound raw shrimp, shells removed
1 red bell pepper, cut into strips, then in half
6 fresh mint leaves, thinly sliced
3 tablespoons soy sauce
1-1/2 tablespoons rice vinegar
2 teaspoons minced fresh ginger
Directions:
Bring a large saucepan of water to a boil over high heat. Add the rice noodles and cook according to package directions. Drain and rinse in cold water.
Cook the edamame according to package directions. Rinse in cold water. Shell the edamame and discard the empty pods.
Bring a large saucepan of water to a boil over high heat. Add the shrimp and cook until the shrimp are just cooked through, about 90 seconds. Drain and immediately plunge the shrimp into a bowl of ice water to stop them from cooking further.
In a large bowl, combine the rice noodles, shrimp, edamame, red bell pepper strips and mint.
In a small bowl, whisk together the soy sauce, rice vinegar and ginger.
Pour the dressing over the rice noodle mixture and toss gently to combine. Serve.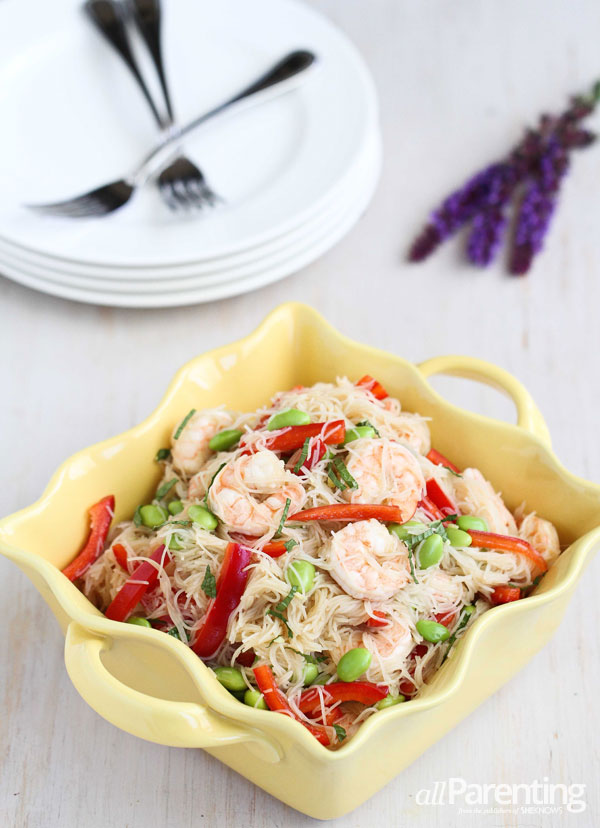 Other seafood recipes
Roasted shrimp with tomatoes & feta cheese
Broiled teriyaki salmon
Pineapple shrimp salad endive spears