Posted: Aug 20, 2013 5:00 AM
The maca root has been around for thousands of years — and with good reason. It's rich in vitamins, nutrients and amino acids that work to increase energy, physical strength and even libido. No wonder it's considered a superfood! With a somewhat sweet, butterscotch flavor, maca powder is the perfect healthy addition to your favorite desserts and smoothies.
Maca root has been grown in the high Andes of Peru for over 2,000 years. A member of the cruciferous family, it's related to kale, turnips and radishes. Ground into a powder, maca is a top superfood that is easy to add to many recipes to help support healthy living.
Health benefits of maca powder
Maca powder is rich in vitamins B1, B2, C and E and amino acids although it's not a complete protein. It's also high in calcium, magnesium, potassium, iron and other essential nutrients the body needs. Maca is considered an adaptogen and as such, it helps the body resist stress. It's also said to promote strength and stamina as well as enhance libido. Some other conditions maca powder is known to help are depression, poor memory, menopausal symptoms and fatigue.
To learn more about the health benefits of maca powder, read Superfoods: The Food and Medicine of the Future by David Wolfe.
What to look for when buying maca powder
When purchasing maca, look for certified organic products from Peru. There are different colors of maca powder including red, yellow and black. You can also find maca powder capsules and liquid maca root. Quality maca powder can be purchased at Whole Foods and other health food stores or online at sites such as sunfood.com and vivapura.com.
How to use maca powder
Maca powder has a slightly sweet taste with hints of butterscotch and smoked toffee. To retain the health benefits of maca powder, it should not be heated. Instead, add a tablespoon to your favorite smoothie recipes and nut milks. Maca is also great in cold soups, puddings and salad dressings. For a nice treat, mix maca powder into your favorite raw chocolate dessert recipe or try this chocolate maca smoothie recipe.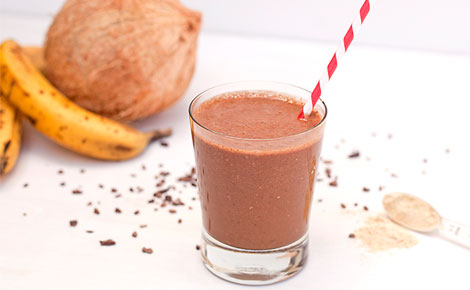 Chocolate maca smoothie
Serves 1
Ingredients:
1 banana
1 tablespoon cacao powder
1 tablespoon cacao nibs
1 tablespoon maca powder
1 tablespoon unsweetened, shredded coconut
Coconut milk
Ice
Directions:
Add all ingredients in a blender.
Blend to desired consistency, adding more coconut milk as needed.
Pour into a glass and enjoy!
More on superfoods
Superfoods for a super you: Raw chocolate
Superfoods for a super you: Hempseeds
Superfoods for a super you: Aloe vera