Posted: Jul 11, 2013 11:00 AM
We're taking a classic margarita and turning it into a frozen dessert that will bring a refreshing chill to a hot summer afternoon. So, toss out that straw and reach for a spoon for this frozen treat.
What's better than a margarita for beating the summer heat? A frozen margarita. And what's even better than that? A margarita granita... a cocktail to eat with a spoon.
Granita differs from your typical frozen margarita because the ice crystals are larger and it has a nice, icy crunch to it.
For this particular recipe, we've opted to use gold tequila. Although you could certainly use silver or white tequila for a tasty outcome, we love the gold tequila because it's sweet and smooth and has just the faintest hint of caramel, which adds something extra special to this fresh granita.
Margarita granita
Serves 4
Ingredients:
2 cups water
1 cup sugar
2/3 cup fresh lime juice (4-5 limes)
1/3 cup fresh squeezed lemon juice (2-3 lemons)
5 ounces gold tequila
Lime wedges
Coarse salt to rim glasses (we love kosher salt for its flaky and irregular crystals.)
Directions:
Whisk the water and sugar in a heavy saucepan over medium heat just until the sugar dissolves.
Pour the sugar mixture into a glass baking dish. Cool completely.
Whisk in the tequila and lime juice.
Freeze the mixture until it becomes slushy, roughly 2 hours. Using a fork, break up ice crystals and stir it around a bit.
Continue freezing the granita until completely frozen, stirring with a fork every hour or so to form crystals. This should take roughly 4 hours. The granita keeps fine overnight, if you'd like to make it ahead of time.
Remove from freezer when ready to enjoy and loosen with a fork.
Pour coarse salt into a small, shallow plate.
Run a lime wedge along the rim of each of the 4 glasses and dip in the coarse salt. (We like to do just half of the glass.) 
Divide the granita among the glasses.
Garnish with fresh lime wedges, if desired, and serve with a spoon.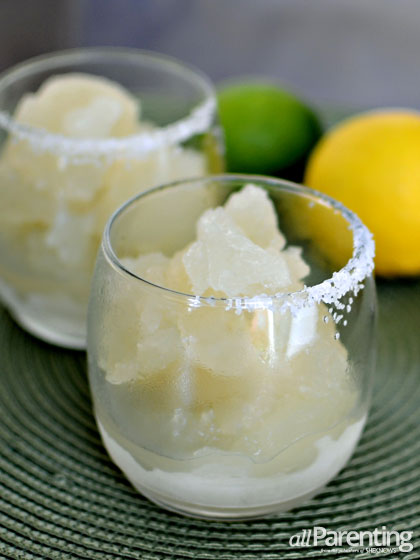 More fruity summer cocktails
Sex on the beach martini
Berry stomp cocktail
Blackberry smash cocktail