Posted: Jul 17, 2013 6:00 AM
We all love a good tuna salad, but we don't necessarily love the heavy mayonnaise and carb overload courtesy of all that bread. We've switched things up in this feel-good salad that will leave you wanting more. You're welcome.
We all remember it... the heavy tuna salad that made its way onto our lunch plates when we were kids, laden with heavy mayonnaise and mounded between two pieces of white bread that got stuck to the roof of your mouth by the third bite.
Though, undeniably there are times when nothing hits the spot quite like the classic tuna sandwich, we've played with this lunchtime classic and found a way to enjoy all of the flavor of tuna salad and still feel good about eating it!
We've replaced the piece of iceberg lettuce often found on a tuna salad sandwich with mixed greens. We love the Earthbound Farm organic baby mixed greens, which contain baby greens, organic red and green chard, mizuna, arugula, mâche, frisée and radicchio.
We also swapped out the heavy mayonnaise in favor of a healthy drizzle of black truffle oil, which has a rich, strong, earthy flavor.
And we didn't stop there. When we were done, we threw in some tasty pitted green olives, just because. We think that with just one bite, you'll agree that these are a fantastic addition to this new lunchtime favorite!
Mixed greens, albacore tuna and green olives
with truffle oil
Serves 4
Ingredients:
4 cups baby mixed greens
5 ounces albacore tuna
3 ounces pitted green olives
1-1/2 tablespoons black truffle oil (a little goes a long way)
Kosher salt
Freshly cracked pepper
Directions:
Empty albacore tuna into a small bowl and use a fork to break up into small chunks.
Drain olives.
Add mixed greens, albacore tuna and green olives to a large salad bowl.
Toss until well mixed.
Drizzle with truffle oil and toss again to lightly coat.
Add kosher salt and pepper to taste.
Divide the salad among serving plates and serve.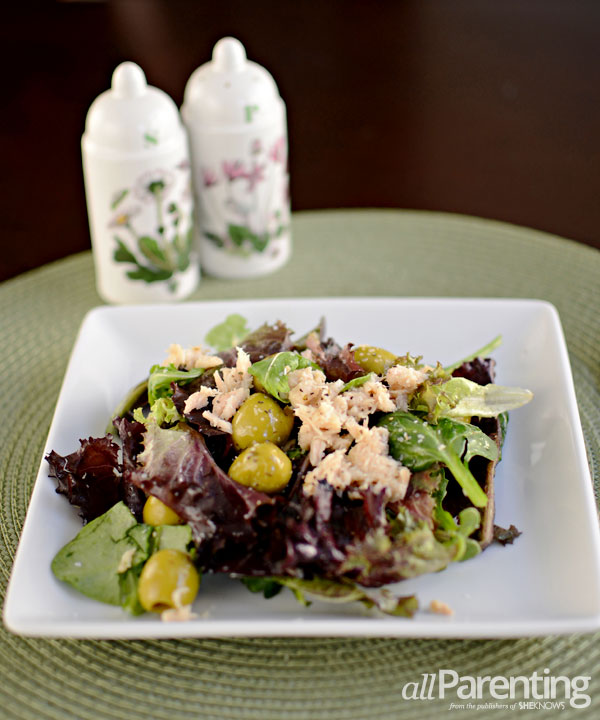 More simple summer meals
Grilled summer vegetable panini
Basil shrimp pasta salad with artichokes and peas
Fully loaded Tex Mex sliders