Posted: Jul 30, 2013 5:00 AM
Caprese salads are probably most delicious for their utter simplicity. Fresh basil, mozzarella and tomatoes come together, infusing one another with their flavors. Caprese salad easily turns to Panzanella in minutes with the simple addition of freshly toasted bread and the perfect vinaigrette.
There's something wonderful about the way the flavors come together in a Caprese salad. The basil plays off the fresh, creamy mozzarella and the juicy, tasty tomatoes simply seal the deal. Add freshly toasted bread cubes and a light vinaigrette to the mix and you get Panzanella, which might just supplant Caprese as your favorite!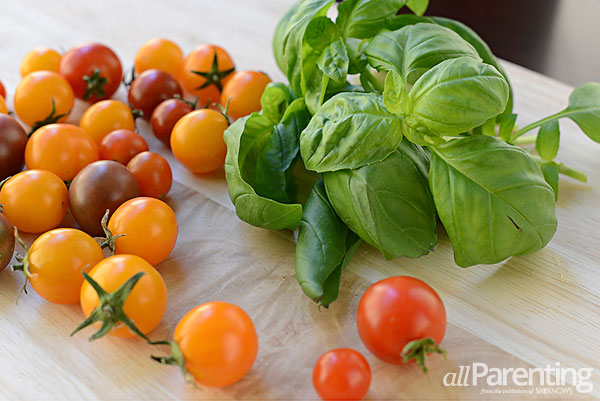 Panzanella Caprese salad
Serves 4
Ingredients:
4 cups day-old bread cubes (French baguettes are perfect for this.) 
6 tablespoons olive oil
2 pounds fresh mozzarella (roughly 2 cups once cubed) 
25-30 assorted cherry tomatoes
1-1/2 cups loosely packed basil leaves
1-1/2 teaspoons kosher salt
Additional kosher salt and freshly ground pepper to taste
Directions:
Heat a large saucepan over medium heat and add enough olive oil to lightly coat the bottom.
Once the oil is hot, add in the bread cubes and toss to coat.
Sprinkle with kosher salt and toss again.
Stir frequently for about 8-10 minutes, just until the cubes are slightly toasty, adding more olive oil if necessary.
Remove the bread cubes from the heat , transfer to a wire rack and allow to cool completely.
Halve the cherry tomatoes and add them to a large salad bowl.
Chiffonade the basil and add to the salad bowl.
Cube the mozzarella into chunks just a bit smaller than the bread cubes and add them to the bowl.
Add in the cooled bread cubes.
Prepare vinaigrette and pour over the salad a bit at a time, tossing gently between additions. (Adding the olive oil slowly will ensure that the vinaigrette coats all bread cubes evenly.)
Allow the finished salad to sit for just a few minutes so the bread can soak up some of the vinaigrette.
Check for flavor and add salt and pepper to taste. Serve immediately.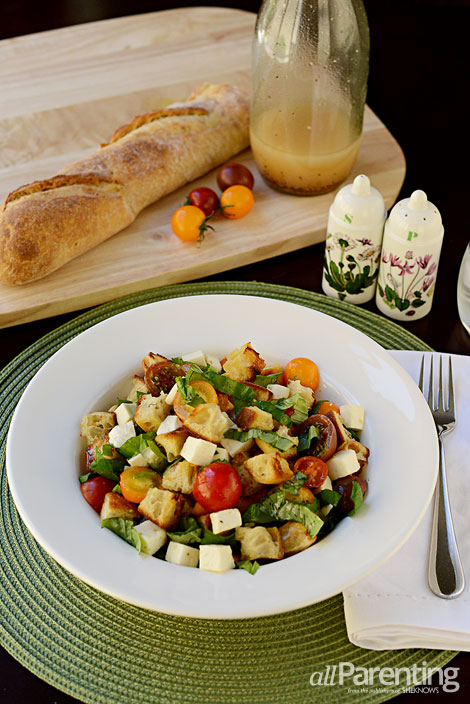 More refreshing salads
Mason jar layered salads
Caprese salad poppers
Summer vegetable quinoa salad