Posted: Jul 12, 2013 10:00 AM
What tasty summer treat delivers tart, sweet and creamy flavors all in one single fantastic bite? Key lime pie! We're taking those same flavors and combining them in an easy-to-make, portable ice cream sandwich.
While there's no denying that the classic American Key lime pie, made with Key lime juice, egg yolks and sweetened condensed milk in a pie crust and topped with meringue, is a deliciously refreshing summer treat, who has time to spend in the kitchen in the summer making it?
We've taken those same flavors and created a hand-held version to keep in your freezer to greet you on a hot summer evening. All of the flavor, none of the work... that sounds like summer to us!
Graham cracker and Key lime ice cream sandwiches
Ingredients:
Graham crackers
Key lime ice cream
Directions:
Remove graham crackers from their packaging and break each cracker into 2 squares.
Remove ice cream from the freezer and allow to set on the counter for a few minutes to soften slightly (don't let it get too soft, however, or you'll have a sloppy mess).
Using a melon baller or a small ice cream scoop, scoop out a few small balls of ice cream and place on 1 side of a graham cracker square.
Top the ice cream scoops with another graham cracker square and press together evenly until the ice cream reaches the edges. Graham crackers break rather easily, so a gentle hand works best. A great way to do this is to place it on the counter and gently press down with the palm of your hand.
Using a butter knife, smooth out the 4 sides wherever the ice cream may have squeezed out and fill in any gaps in the ice cream edge.
Return to the freezer for at least 30 minutes to firm up before serving.
These refreshing ice cream sandwiches will keep well for up to a week if wrapped carefully.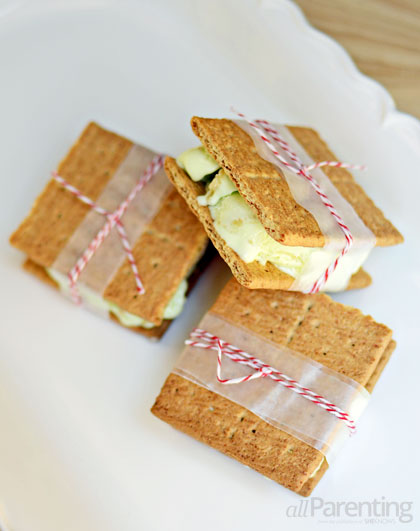 More ice cream treats for summer
Ice cream sandwich recipes
Weird ice cream flavors you need to try right now
Ice cream sodas for summer