Posted: Jul 31, 2013 5:00 AM
If you've had a salad for lunch just to walk away from the table still hungry, you'll love how satisfying this quinoa, feta and bacon salad is. Healthy, filling and flavorful? You
can
have your quinoa and your bacon, too!
Quinoa burst on to the culinary scene a few years ago now and what was once a mysterious ingredient has now become a staple for many health-conscious families.
Containing nine essential amino acids, quinoa is loaded with protein and contains twice as much fiber as other popular grains. If that's not enough to convince you to give it a shot, how about the fact that it's rich in iron? Is that enough to get you in the kitchen? How about the addition of bacon? We knew that would rein you in!
No longer does healthy have to equate to bland. This salad is anything but. Tossed with spinach (more iron!), feta (calcium!) and just enough crispy bacon (yum!) to make you feel like you're indulging, you'll feel energized after eating this fresh salad.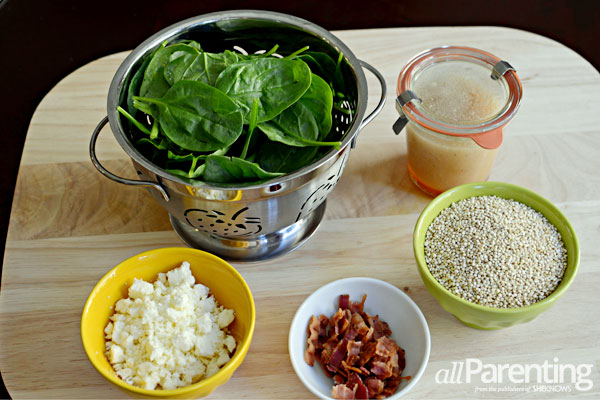 Quinoa salad with spinach, feta and crispy bacon
Serves 4
Ingredients:
1 cup uncooked quinoa
3 slices bacon
2 cups red and yellow cherry tomatoes
3 ounces fresh baby spinach, rinsed, dried and chopped
3/4 cup crumbled feta
AllParenting's Everyday Vinaigrette
Directions:
Cook the quinoa in water according to package directions.
Cook the bacon slices until crispy and set aside to cool. Once they're completely cool, crumble them into small chunks and set aside.
Spread the cooked quinoa on a large plate or other shallow dish and refrigerate it until completely cool. (If you're short on time, stir every few minutes to release the heat.)
Roughly chop the clean spinach into manageable-sized pieces.
Halve the cherry tomatoes.
In a large bowl, add the clean, chopped spinach, cold quinoa (it must be cold so it doesn't wilt the spinach) and crumbled feta and tomatoes. Prepare vinaigrette.
Top with crumbled bacon.
Before serving, toss the salad with the dressing and serve. Leftovers will keep a couple of days covered tightly in the fridge.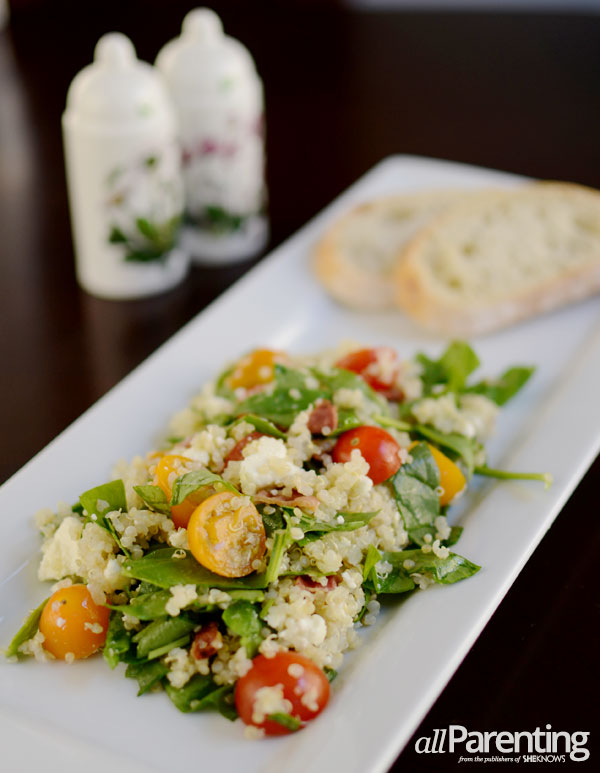 Other healthy salad recipes
Mason jar layered salads
Healthy potato salad with radishes and vinaigrette
Quinoa salad with chicken, black beans and chipotle dressing