Posted: Jul 25, 2013 11:00 AM
Pomegranate martinis have made their way onto nearly every restaurant's drink menu. There's no denying how fantastic they are. And now, those same sweet-tart flavors can be found right at home... waiting for you in your freezer!
When you were a kid, you likely ran for the snow cone stand to beat the summer heat. Whether you ultimately chose cherry, grape or the ever-so-popular bubble gum flavor, those frozen crystals turned a hot, cranky afternoon into one filled with pure happiness.
Now that you're an adult, you probably don't run with joyful anticipation for the snow cone stand, wait your turn in line and drink every last drop from the bottom of the cone, but that doesn't mean that you have to let the kids have all the fun. Now you can get that same sweet refreshment from a grown-up, pomegranate martini-flavored frozen granita treat.
We're completely convinced that you'll love this fruity, frozen cocktail. You may even tip your glass up and drink every last drop when you're finished.
But first you'll have to get in line... right behind us!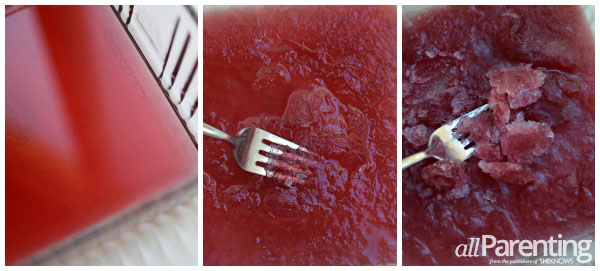 Pomegranate martini granita
Serves 4
Ingredients:
2 cups fresh pomegranate juice
 (skip the frozen, syrupy version)
1/3 cup sugar
 
1/4 cup fresh lime juice (roughly 1-2 limes)
 
1/4 cup vodka

Fresh pomegranate seeds and/or lime wedges, for garnish
Directions:
Whisk the pomegranate juice and sugar in a heavy medium saucepan over medium heat just until the sugar dissolves. You won't have to get it very hot to get the sugar to dissolve.
Pour the warm pomegranate mixture into a glass baking dish. Cool completely.
Whisk in the vodka and fresh lime juice.
Freeze the mixture until the granita becomes slushy, which should take roughly 2 hours. Using a fork, break up any ice crystals that have formed.
Continue freezing the granita until it's completely frozen, being sure to stir every hour or so to form crystals. It should be ready in roughly 5 hours.
Divide the granita among 4 glasses.
Garnish with fresh lime wedges or fresh pomegranate seeds, if desired, and serve.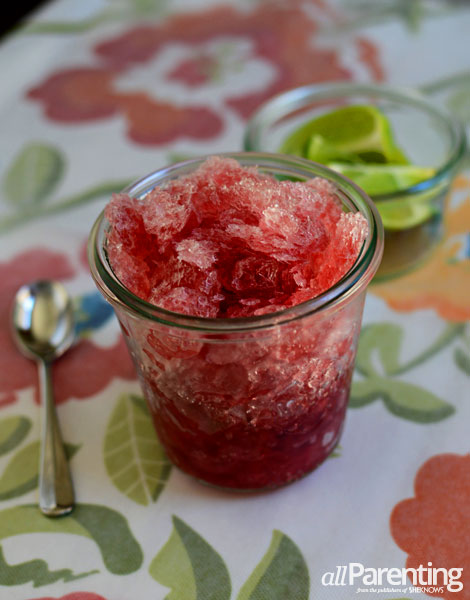 More summer cocktails