Posted: Aug 05, 2013 5:00 AM
Lightly grill slices from a crusty baguette and top them with briny store-bought olive tapenade and slices of sweet summer tomato. Serve them alongside glasses of white wine or Prosecco to kick off your summer evening dinner party.
Everyone needs a lightning-quick summertime appetizer in their arsenal, and this crostini is a sure crowd pleaser. Grill slices of baguette for a minute or so for beautifully uniform grill marks and a smoky taste that just cannot be rivaled by toasting the bread in the oven.
One of the reasons that this appetizer is so easy to make is the "cheat" factor. However, there is absolutely no shame in cheating when it comes to tapenade, which can be a little labor intensive to make. If your local supermarket or health food store has an olive bar, there is a good chance that they have olive tapenade. Scoop the briny, bright mixture onto the smoky slices of bread and top them with slices of sweet tomatoes and a few pieces of fresh basil. Serve the crostini with a glass of white wine or Prosecco.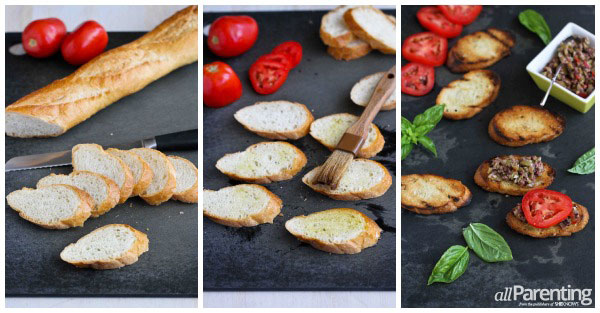 Grilled crostini with olive tapenade and tomato
Makes 12 appetizers
Ingredients:
12 slices French baguette (about 1/2-inch thick)
2 tablespoons olive oil
1/2 cup store-bought olive tapenade
12 slices Roma tomatoes
4 basil leaves, thinly sliced
Directions:
Preheat grill to medium-high heat.
Brush both sides of the bread with olive oil. Place the bread on the grill and toast until there are grill marks on the bread, 30 to 60 seconds on each side.
Spoon 2 teaspoons of olive tapenade on each piece of bread. Top each with a slice of tomato and a few pieces of basil. Serve.

Other summertime appetizers
Crispy crab wonton appetizer
Heirloom bruschetta and greco di tufo
Pineapple shrimp salad endive spears