Posted: Aug 30, 2013 5:00 AM
Pork chops may be economical, but that doesn't mean that they need to be boring. Dress up grilled pork chops with a fresh corn and tomato salsa that is worthy of serving to guests.
As one of the most economical meat choices found at the supermarket, pork chops are often deemed as boring. It's time for a makeover. There are numerous ways, such as brining, rubbing with spices or grilling, to give this lean cut of meat an extra punch of flavor and texture. In this recipe, the pork chops are rubbed with a spice mixture of smoked paprika and cumin, and then grilled to a rich golden brown color.
And why stop there? Summer vegetables are highlighted in a fresh corn and tomato salsa that is piled atop of each pork chop. Grilled or boiled corn work equally well in this salsa. Just cut the kernels from the cobs and mix them with quartered grape or cherry tomatoes, cilantro and olive oil. A splash of fresh lime juice adds a taste of acid to brighten up the flavors.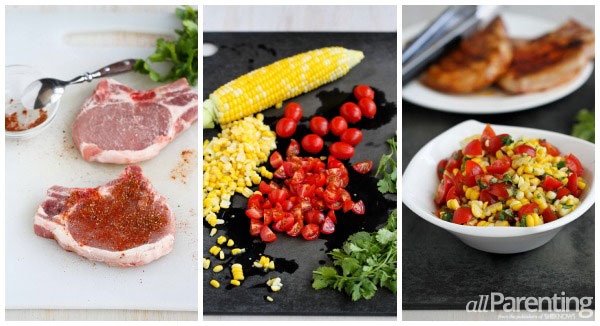 Grilled pork chops with corn and tomato salsa
Serves 4
Ingredients:
The pork chops:
1 teaspoon smoked paprika
1 teaspoon ground cumin
1/2 teaspoon salt
1/2 teaspoon pepper
4 thin bone-in pork chops
The salsa:
1/2 cup cherry or grape tomatoes, quartered
2 ears corn, boiled or grilled, kernels removed from the cobs
3 tablespoons minced cilantro
1 tablespoon olive oil
1-1/2 teaspoons fresh lime juice
Salt and pepper, to taste
Directions:
The pork chops:
Preheat the grill to medium-high heat. Lightly oil the grill.
In a small bowl, stir together the smoked paprika, cumin, salt and pepper.
Pat the pork chops dry with a paper towel. Sprinkle the spice mixture over both sides of the pork chops and press the mixture in gently with your hand.
Place the pork chops on the grill and cook until the pork chops are just cooked through, 3 to 5 minutes per side (depending on the thickness of the chops).
Remove the pork chops from the grill and let rest for 10 minutes. Serve the pork chops with the salsa.
The salsa:
In a medium bowl, stir together the tomatoes, corn kernels, cilantro, olive oil, lime juice, salt and pepper.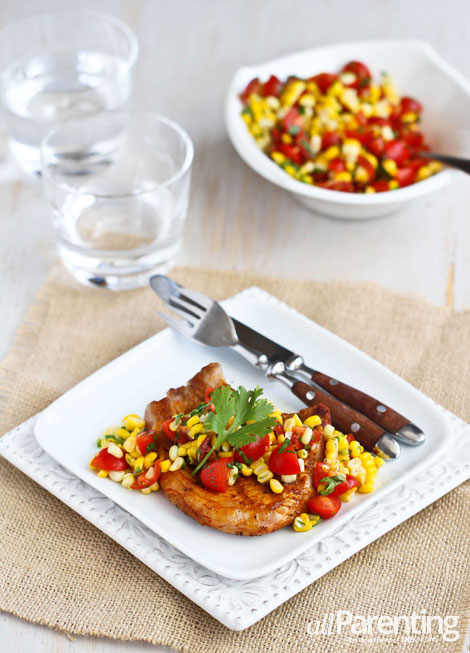 Hungry? Scroll through our delicious recipes!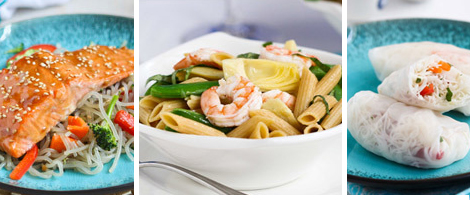 Other dinner recipes for the grill
Grilled chicken with Dijon molasses glaze
Grilled portobello mushroom burgers with chimichurri sauce
Orange mango grilled pork chops