Posted: Aug 09, 2013 11:00 AM
Longing for a Caribbean vacation? Look no further than a tropical tequila shooter. Perfect to serve at a summer party, your guests will feel like they're dipping their toes in the sand.
Refreshing and delicious, nothing screams, "I want to be on vacation in the Caribbean!" more than a tropical tequila sunset shooter. Choose either to make a pitcher of this cocktail for summer party guests or make directly in tall shot glasses for a layered cocktail look. Either way, your guests will rave about these shooters as they cool down on a warm summer evening!
Tropical tequila sunset shooter
Makes 1
Ingredients:
1 ounce tequila
2 ounces orange, peach and mango juice
Dash of grenadine
Directions:
Pour a shot of tequila into a tall shot glass.
Fill with orange, peach and mango juice and stir.
Carefully add a dash of grenadine down the side of the shot glass.
Add a colorful straw or cocktail umbrella for added decor.
Sip and enjoy!
Pitcher of tropical tequila sunset cocktail
Ingredients:
12 ounces tequila
24 ounces orange, peach and mango juice
1 ounce grenadine
Crushed ice
Directions:
Combine all ingredients into a 40- to 50-ounce pitcher.
Stir slightly and serve in desired cocktail glasses.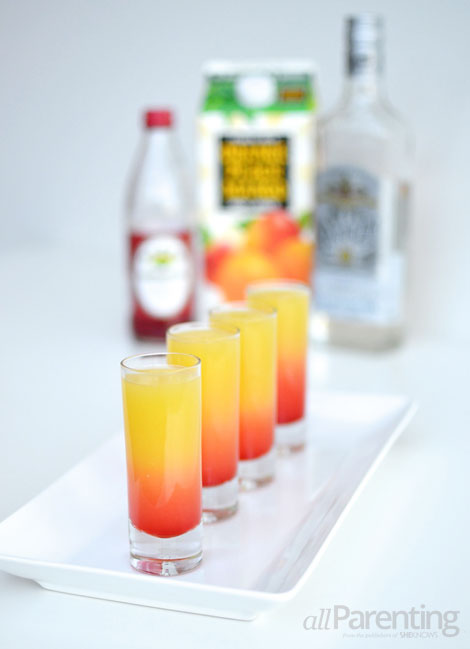 More summer cocktails to try
Summer sangria
Sex on the beach martini
Passion fruit margaritas