Posted: Sep 17, 2013 6:00 AM
Sherry Poff's mom served biscuits as part of one meal almost every day. It wasn't until people outside the family raved about them that she realized how special they were. Sherry needed to learn to make them. But what happens when Sherry bakes them without her mother by her side? Find out in this story from
Chicken Soup for the Soul: Food and Love
.
Written by Sherry Poff, published in Chicken Soup for the Soul: Food and Love
The sweetest sounds to mortals given
are heard in mother, home and heaven.
—William Goldsmith Brown
"
"
I don't remember just when I realized that my mother's biscuits were special. They were big, puffy things that she formed with her hands in a bowl she kept on a shelf in the side cabinet, pinched off with floured fingers, and placed gently on a black biscuit pan with a starburst pattern. Mornings before I went to school, she stood in the kitchen patting them out while the oven heated. By the time I was dressed and had my books gathered up, they were done. I ate one with oatmeal before heading out the door, across the creek, and over to the road, where I stood with my brother and sister beside the mailbox and waited in the early gloom for the school bus.
On Sundays, those same round biscuits filled a bowl next to fried chicken and mashed potatoes in our sunny kitchen. Sometimes when there were biscuits left over, Mom broke them into pieces, layered them with applesauce and cinnamon, and baked them till they were steaming hot. This concoction would be dessert on a winter evening. That was the way I loved them, but they didn't seem like anything unusual to me — just biscuits with a peculiar starburst pattern on the bottom. Whenever we had company, however, people always remarked on them, and it eventually occurred to me that I needed to learn to make those biscuits myself.
After some practice, I could make a decent pan of biscuits, but in my mind they would never measure up to Mom's.
"
"
The summer before I got married, Mom took time to show me her secrets. I stood beside her as she added a little more flour to the bowl that was always at the ready. She hollowed out a hole with the back of her hand and poured in some milk. With her other hand, she scooped out a generous portion of Crisco, and confided, "The secret to good biscuits is plenty of shortening." After some practice, I could make a decent pan of biscuits, but in my mind they would never measure up to Mom's.
Once my husband and I had our own home, I could not figure out where, in my small efficiency kitchen, to keep a bowl always ready for making biscuits. I was in school, space was limited, and somehow, it just wouldn't work for me. Maybe there's another way to make biscuits, I thought, and started searching the cookbook. Feeling almost guilty, I tried out recipes and methods until I found what worked for me.
My husband and I eventually moved to another state and began raising our own family. In the midst of a busy life with four young children, I didn't have a lot of time to regret my shortcomings in baking. One day, hurrying to get breakfast ready, I stooped by the cabinet trying to find what I needed, and realized that it was my mother's black biscuit pan I was looking for. With a wry smile, I pulled out my own shinier pan and placed on it the biscuits that I had stirred with a spoon and cut out with a yellow Tupperware circle.
As time passed, Mom's health deteriorated and she was no longer able to stand. The job of cooking for family gatherings fell to my sister Sharon and me. Though we missed Mom's special touch, we could only be ourselves; it had to be good enough. When our mother died, we gradually sorted out her belongings, but most of the kitchen things stayed at the house, which had become my brother Steven's.
One summer day, years later, Steven, Sharon and I sat on his porch. The children had all grown up and moved in different directions. Big family dinners were rare. Without saying anything, Steven got up and went into the house. He came back carrying the black biscuit pan that hadn't been used in some time. It was a little bent and in need of a good scrubbing, but the familiar starburst pattern was still apparent.
"Who wants it?" he asked. After a short negotiation, the pan became mine. I took it home, cleaned it up and put it into the cabinet alongside my other pans.
In a few weeks, my oldest daughter Sarah was coming for a visit. I wanted our time together to be special, like the times I remembered with my own mother.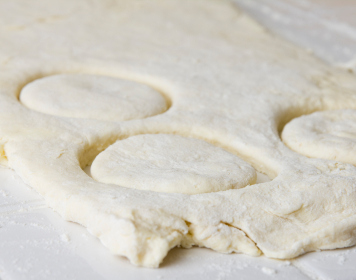 "Is there anything you'd like to have while you're here?" I asked.
"I just want biscuits at least once," she replied.
On the day her dad went to pick her up from the airport, I got things ready for Sarah's arrival. I put clean sheets on the extra bed, made sure her bathroom was fresh and clean, swept the leaves off the walkway and went into the kitchen. I placed on the counter everything I would need to make biscuits: a medium sized mixing bowl, a spoon, a knife, flour, shortening, baking powder, salt, milk, my yellow Tupperware biscuit cutter and Mom's black pan. Turning the oven to 450 degrees F, I tied on my apron and began measuring out the flour for biscuits as only my daughter's mom can make them.
Mom's Biscuits
Makes approximately 8 (recipe can be doubled)
Ingredients: 
2 cups all-purpose flour
3/4 teaspoon salt
2 teaspoons baking powder
4 large dollops of shortening (about 4 tablespoons)
A little milk
Directions:
Put the dry ingredients into a medium-sized mixing bowl.
Use a table knife and cut in the shortening. (A little more shortening won't hurt.) You want the shortening evenly distributed and in small bits — smaller than peas.
Pour in some milk — no more than 2 tablespoons. Stir this in. Keep adding milk and stirring until you have a good doughy consistency.
Turn out onto a floured surface and knead until the dough is smooth — but not overly so.
Pat out the dough to the desired thickness. (Thinner biscuits have a nice crust.)
Cut out with round Tupperware cutter — or whatever you like to use.
Place biscuits on an ungreased pan.
Bake at about 425 degrees F until done to desired brown-ness — about 15 minutes. You will smell the biscuits when they're about ready.
 ***** 
No matter how hard we may try, we may never be able to replicate a special dish passed down from our mothers or grandmothers. It may sound corny, but even if we have the recipe, there will always be a missing ingredient. Does your family have recipes like this? Does someone have a special touch that no one's able to duplicate? Share it with us in the comments! And for other great food stories, pick up your copy of Chicken Soup for the Soul: Food and Love.
Reprinted with permission from Chicken Soup for the Soul Publishing, LLC © 2011. In order to protect the rights of the copyright holder, no portion of this publication may be reproduced without prior written consent. All rights reserved.
More comfort food
Mini chicken pot pies
Macaroni and cheese bar
Chicken Soup for the Soul: Cooking with Mom