Posted: Sep 11, 2013 11:00 AM
It doesn't take a highly trained chef to make a great crème brûlée. All you need are a few ingredients, some time and a hand torch. Put on your apron and learn how to make this classic dessert that can be enjoyed from the comfort of your own home.
The history of crème brûlée is long and a bit complicated. Some say the dessert goes all the way back to the 15th century. Yet the first printed version of the recipe appeared in a 1691 French cookbook by Francois Massialot titled Le Cuisinier Royal Et Bourgeois. The recipe hasn't changed much since it first appeared in print all those years ago.
A simple mixture of cream, egg yolks, vanilla and sugar, crème brûlée is one of those desserts we associate with being "fancy." However, it is very easy to make at home as long as you have time and patience. A small hand torch is also helpful for making crème brûlée at home. You can find small hand torches at Home Depot and Lowe's or you can pick up a hand torch for making crème brûlee at places such as Bed, Bath and Beyond and Amazon.
Once you master this basic crème brûlée recipe, branch out and try your hand at adding different flavors such as coffee, rum, Irish cream and even ginger.
Crème brûlée
Serves 2 to 3
Ingredients:
4 egg yolks
3 tablespoons white sugar
1 cup heavy cream
1/2 teaspoon vanilla extract
White sugar for the top
Fresh berries and sprigs of mint for garnish
Directions:
Preheat oven to 300 degrees F.
In a large bowl, whisk together the egg yolks and white sugar until the sugar has dissolved and the mixture is thick and pale yellow in color. Add the cream and vanilla. Continue to whisk the mixture until it is well blended. Strain or skim off any foam or bubbles from the mixture.
Pour the mixture into ramekins. If using large ramekins, you should get 2 servings. Smaller ramekins should yield 3 servings.
Place the ramekins in a large pan (a cake pan works great for this) and fill with 1 or 2 inches of hot water. Bake the crème brûlée for 50 to 60 minutes. You want the custard to set around the edges but still be loose in the center.
Remove pan from the oven and leave the ramekins in the water bath until completely cooled.
Once cooled, remove the ramekins from the water bath, cover and chill in the refrigerator for at least 2 hours, or up to 2 days.
Before serving, sprinkle 1 or 2 tablespoons of white sugar over the top of the custard. Be sure the sugar completely covers the top of the custard and not just the middle. Using a small handheld torch, melt the sugar. If you don't have a hand torch, place the ramekins under the broiler for a few minutes to melt the sugar.
Place the ramekins back in the fridge for a few minutes to re-chill the custard before serving.
Garnish the crème brûlée with a few seasonal berries and a sprig of mint, if desired.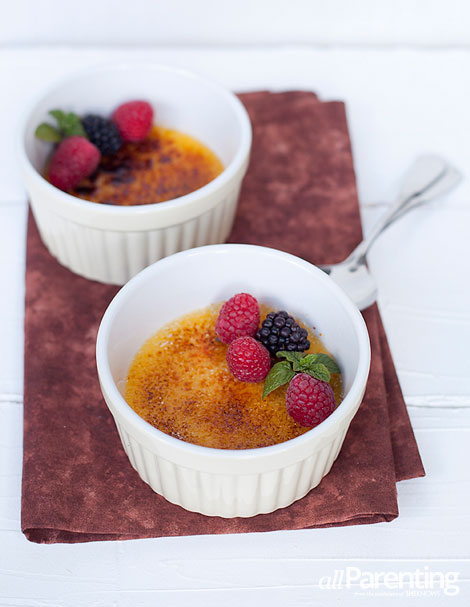 Cure your sweet tooth with endless dessert ideas!