Posted: Sep 02, 2013 5:00 AM
The warmth of cinnamon and ground ginger liven up these waffles for a special brunch. Serve them with fresh fruit, chopped nuts and heated maple syrup, and tuck any leftovers into the freezer for a quick weekday breakfast option.
We all have our favorite weekend breakfast recipe, whether it involves fluffy pancakes, a tasty egg and bacon wrap or a crustless quiche. If you are looking for something new and don't have a tried-and-true waffle recipe in your arsenal, this one is for you.
Whole wheat flour, a scoop of applesauce and the absence of butter make these waffles healthier than your average variety. A generous amount of ground cinnamon and ginger lend spice to the waffles, which pair perfectly with fresh berries and pecans.
If you have leftover waffles, or decide to make a double batch, let the waffles cool on a rack. Then pack them in resealable freezer bags separated by pieces of wax paper, and pop them in the freezer. Reheat the waffles at 350 degrees F for about five minutes for a quick school morning breakfast.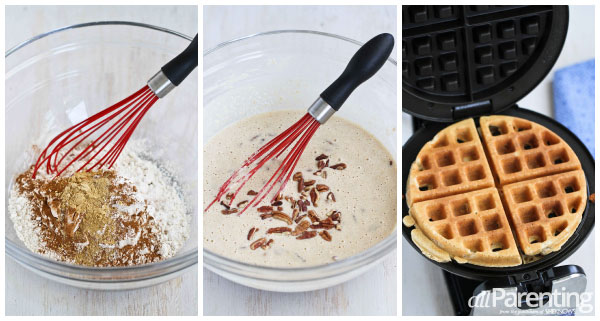 Cinnamon, ginger & pecan waffles
Makes approximately 6 round waffles
Ingredients:
2 cups whole wheat flour (preferably whole wheat pastry flour)
3 teaspoons baking powder
1-1/2 teaspoons ground ginger
1-1/2 teaspoons ground cinnamon
1/2 teaspoon salt
2 large eggs
1-1/2 cups 1 percent milk
1/4 cup canola oil
1/4 cup unsweetened applesauce
2 tablespoons pure maple syrup, plus more for serving
1 teaspoon vanilla extract
1/2 cup chopped pecans
Chopped pecans and fresh berries for serving, if desired
Directions:
Preheat a waffle iron according to manufacturer's directions.
In a large bowl, whisk together the whole wheat flour, baking powder, ginger, cinnamon and salt.
In a medium bowl, whisk the eggs. Add the milk, canola oil, applesauce, maple syrup and vanilla extract. Stir to combine.
Add the liquid ingredients to the dry ingredients and stir to combine. Stir in the chopped pecans.
Using about 3/4 cup batter per waffle, make the waffles in the preheated iron according to manufacturer's directions.
Serve with warm maple syrup and garnish with additional chopped pecans and fresh berries, if desired.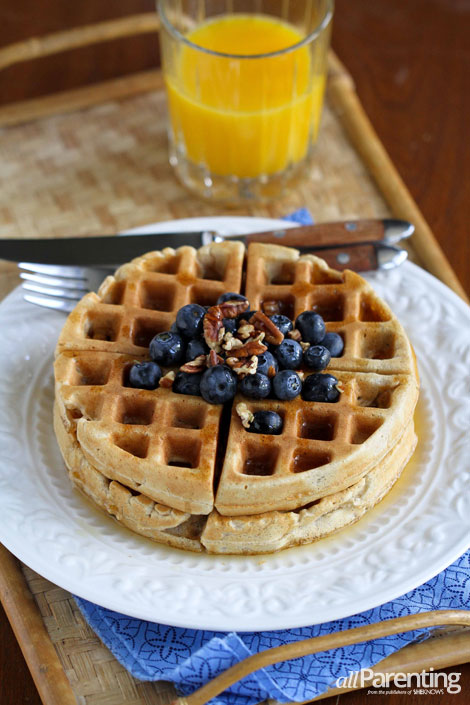 Hungry? Scroll through our delicious recipes!