Posted: Sep 16, 2013 5:00 AM
When the evening is jam-packed with family activities, throw together this tasty rice bowl in minutes. Black beans, avocados and a quick cilantro dressing turn this vegetarian meal into something that both kids and adults will enjoy.
School is now in full swing and the "back-to-school" schedule means that afternoon and evening extra-curricular activities are filling the calendar. In turn, that means that there are about five minutes available to prepare dinner each night, or so it seems. This rice bowl may not take five minutes to prepare, but it is a quick, healthy meal that can go from stove top to table in less than 30 minutes.
This vegetarian version of a rice bowl combines protein-rich black beans with creamy avocado, diced tomatoes and garlic-infused rice. Pour a citrusy cilantro dressing over the top for a true southwestern flavor. If your meat-loving family is likely to balk at a vegetarian meal, add in sautéed or grilled chicken, steak or pork.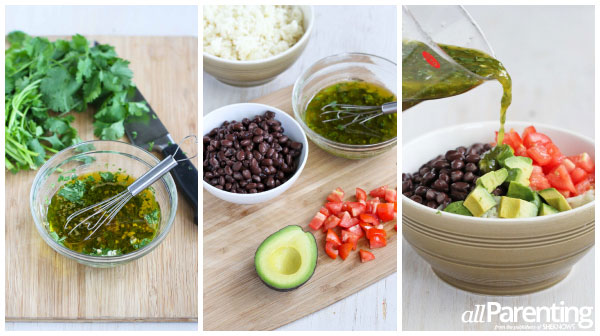 Rice bowl with black beans, avocado & cilantro dressing
Serves 4
Instructions:
The dressing:
1/4 cup fresh lime juice
1/4 cup minced cilantro
3 tablespoons extra-virgin olive oil
1 garlic clove, minced
1 teaspoon honey
3/4 teaspoon salt
The rest:
1 (14 ounce) can black beans, drained and rinsed
3 Roma tomatoes, diced
1 avocado, diced
The rice:
1 teaspoon olive oil
1/2 medium onion, diced
2 garlic cloves, minced
1 cup rice
2 cups vegetable broth
Directions:
The dressing:
In a medium bowl, whisk together the lime juice, cilantro, olive oil, garlic, honey and salt. Re-whisk immediately before using.
The rest:
Divide the rice between 4 bowls and top each portion with black beans, tomatoes and avocado. Pour the cilantro dressing over the rice bowls. Serve.
The rice:
Heat the olive oil in a medium skillet set over medium heat. Add the onion and saute until the onion is softened, about 3 minutes. Add the garlic and cook for an additional 30 seconds.
Pour in the rice and vegetable broth. Bring the broth to a boil. Reduce the heat to low, cover and cook until all of the liquid is absorbed, 15 to 20 minutes. Fluff and set aside.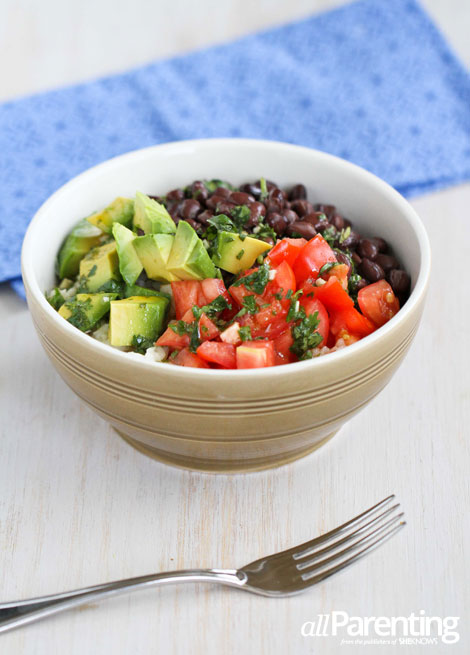 Hungry? Scroll through our delicious recipes!