Posted: Sep 09, 2013 5:00 AM
Stuffed chicken breasts may look fancy, but they are dead simple to make. Whip up a simple mixture of ricotta cheese, spinach and spices, and spoon the mixture into chicken breasts. After a quick turn in the pan and the oven, they are ready to slice and serve.
There are few recipes that can move from family dining to weekend entertaining with little effort. These stuffed chicken breasts fall into that category, and are as versatile as they are tasty. In this version, the chicken breasts are stuffed with a mixture of ricotta cheese, fresh spinach and spices, such as nutmeg and crushed red pepper flakes. If you are wondering what nutmeg is doing in a savory dish, be assured that it adds a fantastic flavor that will leave your guests intrigued.
If you prefer sun-dried tomatoes to spinach, or goat cheese to ricotta cheese, make the substitution. This recipe lends itself to all sorts of variations.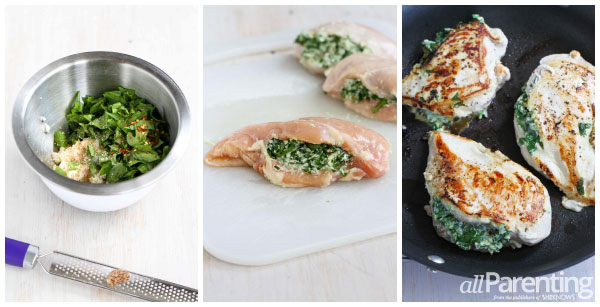 Stuffed chicken breasts with spinach & ricotta
Serves 4
Ingredients:
The filling:
1/2 cup ricotta cheese
1-1/2 cups (packed) fresh spinach, chopped
1/2 teaspoons ground nutmeg
1/4 teaspoon salt
1/4 teaspoon crushed red pepper
The chicken:
4 (5 ounce) boneless, skinless chicken breasts
2 teaspoons olive oil
1/2 teaspoon salt
1/2 teaspoon ground pepper
Directions:
The filling:
Preheat the oven to 375 degrees F.
In a medium bowl, combine the ricotta cheese, spinach, nutmeg, salt and red pepper flakes. Combine by pressing down on the mixture with the back of a fork several times.
The chicken:
Insert a knife into the thickest part of each chicken breast and cut a pocket 2 to 3 inches long.
Stuff each chicken breast with 1/4 of the filling.
Rub the chicken breasts with the olive oil and season with salt and pepper.
Heat a large nonstick, ovenproof skillet over medium-high heat. Add the chicken breasts and cook until golden brown, about 3 minutes per side.
Place the skillet in the oven and bake until the chicken is just cooked through, 10 to 12 minutes.
Remove the chicken from the pan and let it rest for 10 minutes. Slice and serve.

Hungry? Scroll through our delicious recipes!