Posted: Sep 23, 2013 5:00 AM
There's nothing better than a really good taco from a food truck, and now you can re-create that at home. Sear the shrimp on the barbecue, and then tuck them inside of soft corn tortillas, along with pieces of fresh avocado and a creamy cilantro sauce.
There's something about eating with your hands, preferably while perched on a park bench on a sunny day, that seems to make food taste that much better. That is part of the beauty of food trucks. You can order almost any kind of food and eat it wherever you can find a place to sit. With these shrimp tacos, you can recreate those satisfying flavors in your own kitchen. The park bench is optional.
While succulent grilled shrimp is enough to make any taco-lover happy, it's the creamy cilantro sauce that really makes these tacos irresistible. If you have leftover sauce, and manage not to finish it off simply by scooping it up with your finger (ahem), use it as a dip for tortilla chips.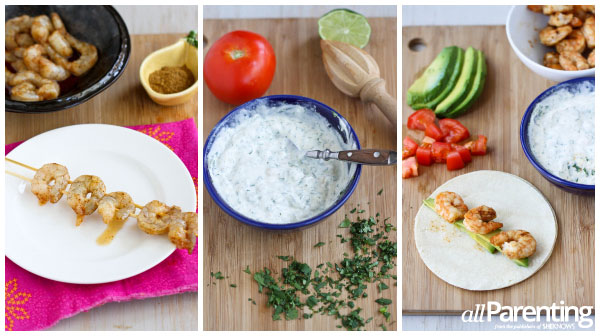 Grilled shrimp tacos with creamy cilantro sauce
Serves 4 (2 tacos per serving)
Ingredients:
The sauce:
1/4 cup fat-free plain Greek yogurt
3 tablespoons low-fat mayonnaise
1 tablespoon skim milk
1 ounce diced green chiles (canned)
1 tablespoon fresh lime juice
1/2 teaspoon ground cumin
1/4 teaspoon salt
3 tablespoons chopped fresh cilantro
The tacos:
1 tablespoon canola oil
3/4 teaspoon ground coriander
3/4 teaspoon ground cumin
3/4 teaspoon chili powder
1/2 teaspoon salt
24 large shrimp, peeled and deveined
16 corn tortillas, warmed
1 cup thinly sliced green cabbage
1 avocado, diced
1 large tomato, diced
Directions:
The sauce:
In a medium-sized bowl, combine the yogurt, mayonnaise, milk, chiles, lime juice, cumin, salt and cilantro. Whisk until smooth.
The tacos:
Preheat the grill or a grill pan to medium-high heat. Place 8 wooden skewers in warm water and soak for 15 minutes.
In a medium-sized bowl, stir together the canola oil, ground coriander, cumin, chili powder and salt. Add the shrimp and toss to coat.
Thread each shrimp onto 2 skewers until all of the shrimp are skewered.
Place the shrimp on the grill and cook until they are just cooked through, 1 to 2 minutes per side. Take care not to overcook the shrimp or they will become rubbery. Remove the shrimp from the skewers once they are cool enough to handle.
Using 2 tortillas for each taco, divide the shrimp, cabbage, avocado and tomato between the 8 tacos. Spoon some of the cilantro sauce over each taco. Serve.

Hungry? Scroll through our delicious recipes!