Posted: Sep 30, 2013 7:00 AM
This family favorite comes together with little effort. It can be assembled in the morning, then popped into the oven before dinner. Choose a garlic or sun-dried tomato chicken sausage to really punch up the flavor.
Whether you are feeding a crowd or just doing your best to get a hearty meal on the table for your family, this baked ziti recipe is a "must-have" for any home cook. This version is lightened up by using chicken sausages and a lighter sauce. In fact, I used the same trick as I did for the Chicken and spinach lasagna recipe. Heavier ricotta cheese is replaced with pureed cottage cheese for a silky, low-fat sauce. Your family and guests will never know the difference.
The recipe calls for pre-cooked chicken sausages, which can be found in most supermarkets. Pick a variety that appeals to your taste buds and adds an extra layer of flavor, such as sun-dried tomato, garlic or artichoke and mozzarella.
The beauty of this recipe is that it can be assembled early in the day, and then baked immediately before serving. Serve it with a green salad or an assortment of raw vegetables to round out the meal.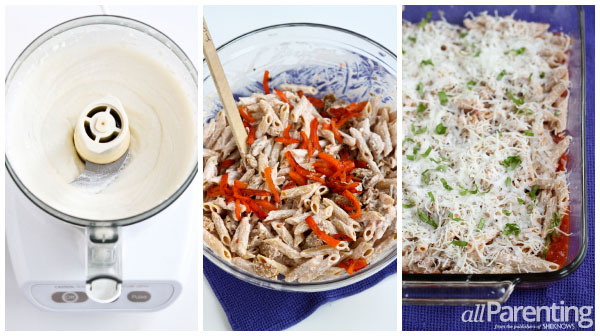 Baked ziti with chicken sausage & roasted red peppers
Serves 6 to 8
Ingredients:
1 (13 ounce) box whole wheat or regular penne pasta
2 teaspoons olive oil
4 links pre-cooked chicken sausage (such as garlic or sun-dried tomato), cut into 1/2-inch semi-circles
1-1/3 cups low-fat cottage cheese
3 cups tomato sauce (your favorite kind), divided
2 whole (4 halves) roasted red peppers, thinly sliced
1 cup grated mozzarella cheese, divided
1/2 cup grated Parmesan cheese, divided
8 basil leaves, thinly sliced
Directions:
Preheat oven to 350 degrees F.
Cook the penne pasta in salted water, 2 minutes less than what is stated on the package directions (it will be cooking further when baked). Drain and rinse with cold water.
Heat the olive oil in a large nonstick skillet set over medium-high heat. Add the sausages and cook until browned, 8 to 10 minutes.
Place the cottage cheese in a food processor and blend until smooth. Transfer to a large bowl.
Add 1/4 cup tomato sauce to the cottage cheese and stir to combine. Stir in the pasta, sausages and roasted red peppers. Stir until the ingredients are coated with the sauce.
Coat a 9 x 13-inch baking dish with cooking spray. Spread 3/4 cup tomato sauce along the bottom. Spread half of the pasta mixture over the tomato sauce, arranging it evenly over the bottom of the dish.
Top the pasta with 1 cup tomato sauce, 1/2 cup mozzarella cheese, 1/4 cup Parmesan cheese and all of the basil.
Repeat the layer with the remaining pasta, tomato sauce, mozzarella cheese and Parmesan cheese.
Cover with foil and bake until bubbling, about 50 minutes.
Uncover and bake for additional 5 minutes, or until the cheese is melted. Serve.

Hungry? Scroll through our delicious recipes!