Posted: Sep 18, 2013 5:00 AM
Remember those Brussels sprouts from your youth? Soggy and overcooked? Well forget all that. Brussels sprouts are enjoying a new popularity and it's ingredients like spicy sausage and pesto that are helping to change that reputation.
We all grew up knowing that Brussels sprouts, with their vitamin C and cancer fighting superpowers, are good for us. But still. They were mushy, soggy and difficult to hide in our napkins.
Well, those soggy Brussels sprouts are a thing of the past. Today, they're seeing a resurgence, popping up all over Pinterest and in every cooking magazine. Combine those sprouts with this spicy sausage and flavorful pesto, and we're certain you'll have a new favorite.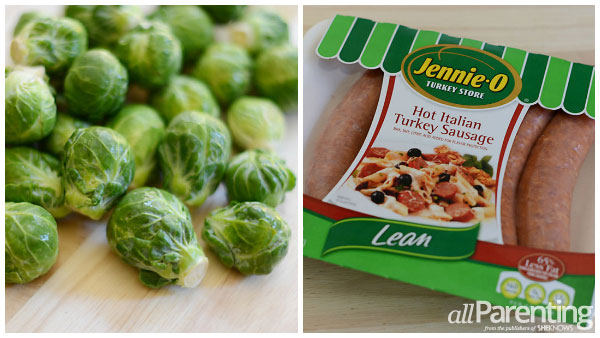 Spicy pesto pasta with turkey sausage and Brussels sprouts
Ingredients:
1 pound fresh Brussels sprouts, cleaned, trimmed and halved
2 tablespoons olive oil
1/2 teaspoon Kosher salt
1/2 teaspoon freshly ground black pepper
1 pound whole wheat medium shells
4 large turkey hot Italian sausage links
4 cloves garlic, crushed
7 ounces basil pesto
Parmesan cheese, for serving
Directions:
Slice sausage casings and crumble turkey into a bowl. Set aside.
In a large saute pan over medium heat, heat 1 tablespoon of olive oil. Once hot, add the crumbled turkey sausage and saute until fully cooked (breaking up large chunks), roughly 6 minutes.
Season with Kosher salt and freshly ground black pepper.
Once cooked through, transfer the turkey sausage from saute pan with a slotted spoon into a clean bowl and cover to keep warm.
Add crushed garlic to the remaining oil in saute pan and cook for 1 minute.
Add Brussels sprouts and cook until golden and tender, roughly 10 minutes. (The key is to not overcook them. They should be vibrant and not at all dark in color.) 
Meanwhile, bring a large pot of water to a boil and cook shells according to package directions. (Reserve 1/2 cup of pasta water once shells are cooked.)
Return the warm turkey sausage to the pan and add pesto and 1/2 cup reserved pasta water.
Stir to combine and heat through.
Add drained pasta and stir to thoroughly combine and heat through.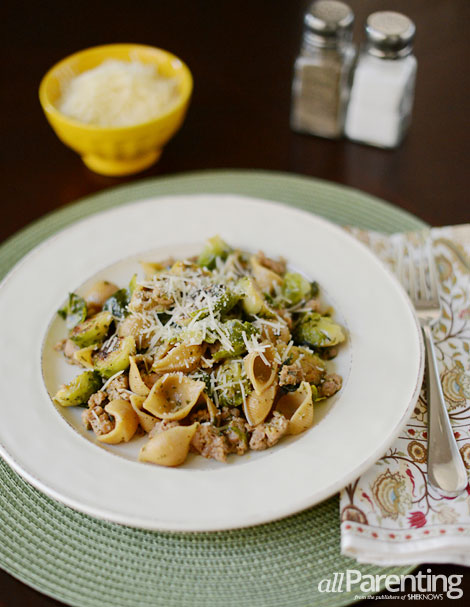 Hungry? Scroll through our delicious recipes!