Posted: Sep 26, 2013 5:00 AM
Who says you can't put bacon and eggs on pizza? Create a new pizza for dinner that's a twist on your traditional "breakfast for dinner." Break off the cheesy crust and dip right into the runny egg yolk!
Did you know that the classic string cheese keeps its shape when cooked? Did you know those same string cheeses make for a fantastic stringy, ooey gooey cheesy inside of a pizza crust? This breakfast-for-dinner pizza is full of flavor and everyone at your dinner table will be asking for slice after slice. In fact, you should just go ahead and make two or three of these pizzas!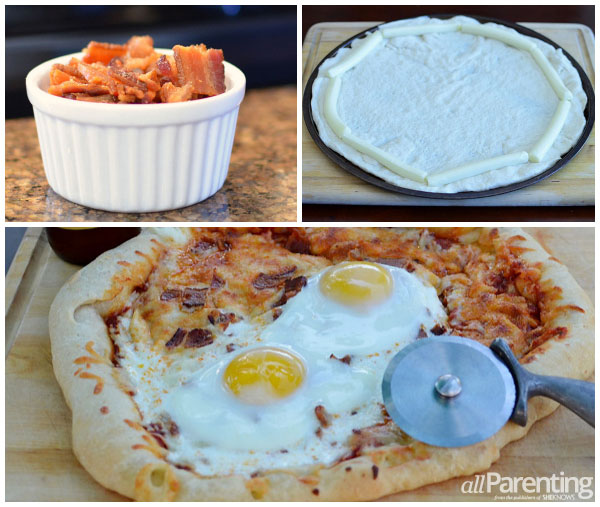 Bacon and egg cheesy crust pizza
Ingredients:
1 Pillsbury Classic Pizza Crust
10 string cheeses, halved lengthwise
1 cup your favorite pizza sauce
4 slices thick apple wood smoked bacon, cooked and coarsely chopped
1 cup mozzarella cheese, grated
2 eggs
Directions:
Preheat oven to 400 degrees F.
Grease a nonstick cookie sheet. Unroll dough onto the cookie sheet and press to desired thickness.
Place string cheeses end-to-end along the edge of pizza dough leaving a 1/2- to 1-inch border. Lift the edge of dough over the string cheeses to enclose. Press firmly to seal.
Spread pizza sauce over pizza dough.
Top with half of the chopped bacon followed by mozzarella cheese. Top with remaining pieces of chopped bacon.
Bake pizza for 10 minutes and remove from oven.
Carefully crack eggs onto pizza and bake for another 5 minutes.
Remove from oven, slice and enjoy!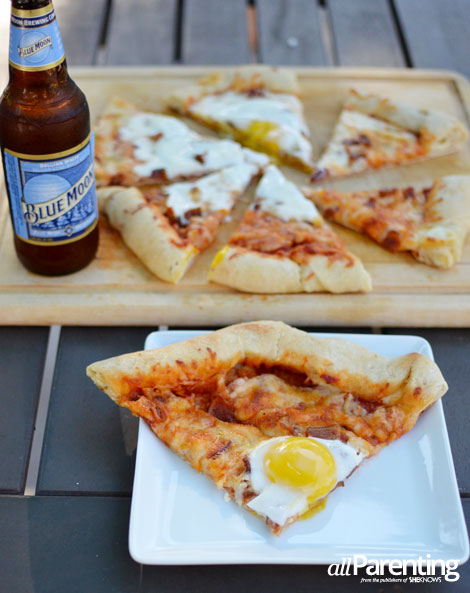 Hungry? Scroll through our delicious recipes!