Posted: Sep 23, 2013 10:00 AM
The produce aisles are filled with juicy stone fruits as we shift from summer to autumn. Fill your cart with plums and nectarines and fill your stomach with this perfect autumn dessert.
It's that time of year when the cooler weather arrives, the days begin to grow shorter and the plump and juicy berries of summer make way for the bounty of stone fruit that fall has to offer. Come in out of the crisp autumn air and make the most of those juicy plums and nectarines with this perfect warm dessert!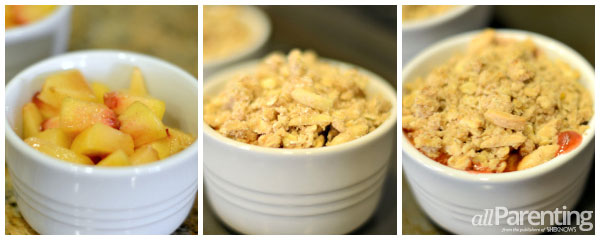 Plum and nectarine crisp with streusel topping
Ingredients:
Fruit filling
1/2 cup light brown sugar
1 tablespoon flour
1/4 teaspoon ground cinnamon
1/4 teaspoon freshly grated nutmeg
1/8 cup fresh lemon juice
1/8 cup fresh orange juice
1/2 teaspoon almond extract
3 ripe nectarines, cut into chunks
3 ripe plums, cut into chunks
Vanilla ice cream (optional) 
Whipped cream (optional)
Streusel topping
1/3 cup old-fashioned rolled oats
1/8 cup chopped almonds
1/3 cup all-purpose flour
1/3 cup light brown sugar
1/2 teaspoon ground cinnamon
3 tablespoons cold butter
Directions:
Preheat the oven to 350 degrees F.
For the filling:
Combine the brown sugar, flour, cinnamon, nutmeg, lemon juice, orange juice and almond extract.
Add in the nectarines and plums to the mixture and combine to coat.
Divide mixture into individual ramekins/baking dishes.
Place on a baking sheet and cover with foil.
Bake for 12 minutes.
For the topping:
In a small bowl, combine the oats, almonds, flour, sugar and cinnamon.
Cut cold butter into small chunks and work into the oat mixture (this is easiest if done with your fingers).
Sprinkle the mixture over the hot fruit filling.
Bake for an additional 15 minutes, until the streusel is golden brown.
Allow to cool for 10-15 minutes.
Serve as is or with a scoop of vanilla ice cream or dollop of whipped cream.
We're confident that this dessert will make it into your family's autumn recipe rotation!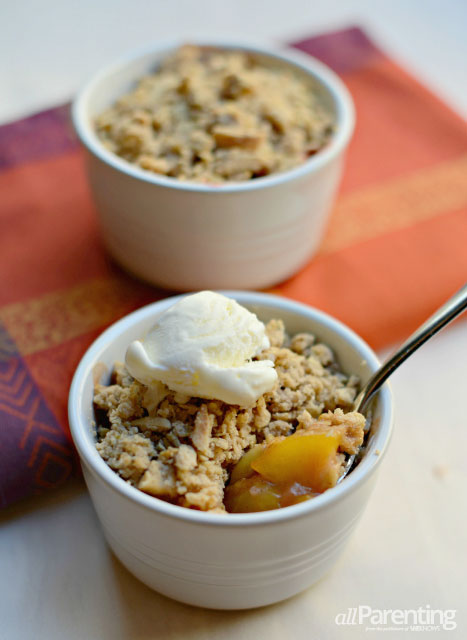 Cure your sweet tooth with endless dessert ideas!