Posted: Oct 07, 2013 5:00 AM
Hawaiian pizza, with Canadian bacon, sweet pineapple and tomato sauce, is hard to resist. Why limit those flavors to pizza? Fill your favorite flour tortillas for pizza-inspired quesadillas. Add a green salad for a complete meal.
Hawaiian pizza is a classic in any American-style pizzeria, and it can be just as easy to make at home. On busy weeknights, take the "easy" factor one step further and ditch the pizza dough for tortillas. Slide a tortilla into a hot pan, and top with your favorite tomato sauce, diced Canadian bacon, chunks of pineapple and just enough cheese to make the quesadilla irresistibly gooey.
While the quesadillas are cooking, put the kids in charge of tossing together a green salad or a plate of raw vegetables. Dinner will be on the table in less than 15 minutes.
Why stop at ham and pineapple? Each time you make pizza quesadillas, let a different family member choose the filling. Maybe one time it will be a meat lovers' version and the next time barbecued chicken and cheddar. Perhaps they will surprise you and choose a few vegetables to tuck inside. The sky is the limit.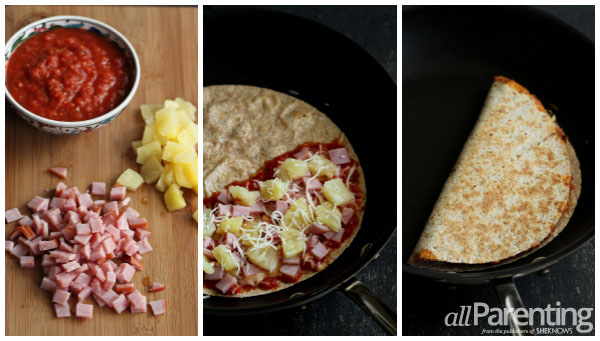 Hawaiian pizza quesadillas
Serves 4
Ingredients:
4 medium whole wheat tortillas
1/2 cup tomato sauce (your favorite kind)
1/2 teaspoon dried oregano
3/4 cup shredded mozzarella cheese
5 ounces Canadian bacon, diced
1 (8 ounce) can pineapple chunks, drained
Directions:
Heat a medium skillet over medium heat.
Place 1 tortilla in the skillet. Spread 2 tablespoons of tomato sauce on half of the tortilla, and sprinkle 1/8 teaspoon oregano over top.
Top with 1-1/2 tablespoons cheese, 1/4 of the Canadian bacon, 1/4 of the pineapple and another 1-1/2 tablespoons cheese.
Fold the other side of the tortilla over the filling. Cook until the bottom of the quesadilla is light golden brown. Flip the quesadilla and brown on the other side.
Let the quesadilla rest for a few minutes, then cut into thirds.
Repeat with the remaining ingredients.

Hungry? Scroll through our delicious recipes!