Posted: Oct 21, 2013 5:00 AM
Even though summer is over, tomatoes are still prime for roasting which is a fantastic way to highlight their flavor. Layer the roasted tomatoes onto fresh bread, along with your favorite cheese for a decadent grilled cheese sandwich.
Roasting tomatoes is a foolproof way to bring out their natural sweetness. Simply layer the tomato slices on a baking sheet and drizzle with a mixture of olive oil, garlic, dried herbs, salt and pepper. After 15 minutes of roasting in a hot oven, the tomatoes turn into sweet and savory jewels.
For this sandwich, use whatever type of cheese appeals to you. The recipe calls for cheddar and Parmesan, but you could use goat cheese, Gruyere or even Brie cheese. The important thing is that there is a healthy dose of the roasted tomatoes on each sandwich. They are, after all, the stars of the show.
If you have any leftover tomatoes, use them in wrap sandwiches, or chop them up and toss with olive oil for an easy pasta sauce.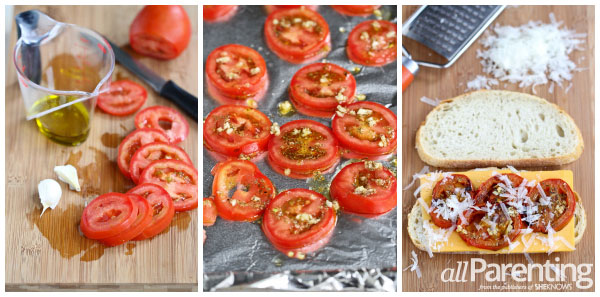 Roasted tomato & grilled cheese sandwich
Serves 4
Ingredients:
3 large Roma tomatoes, cut into 1/4-inch slices
3 tablespoons olive oil
2 cloves garlic, minced
3/4 teaspoon dried oregano
3/4 teaspoon salt
1/2 teaspoon ground pepper
1 tablespoon balsamic vinegar
8 slices crusty Italian bread
3 tablespoons olive oil
3 ounces cheddar cheese, thinly sliced
1 ounce grated Parmesan cheese
Directions:
Preheat the oven to 450 degrees F. Line a baking sheet with foil.
Arrange the tomatoes in a single layer on the prepared baking sheet.
In a small bowl or measuring pitcher, whisk together the olive oil, garlic, oregano, salt and pepper. Pour the olive oil mixture evenly over the tomatoes.
Roast the tomatoes until they are tender and slightly shriveled, about 20 minutes.
Brush 1 side of each piece of bread with olive oil (this will be the outside). Flip over the bread pieces. For each sandwich, layer 3 to 4 tomato slices on 1 piece of bread, topping with the cheddar and Parmesan cheeses. Close the sandwiches with the remaining pieces of bread.
Heat a panini press, large skillet or grill pan to medium-high heat. Toast until the cheese is melted and the bread is toasted, about 5 minutes, flipping halfway through if not using a panini press. Serve.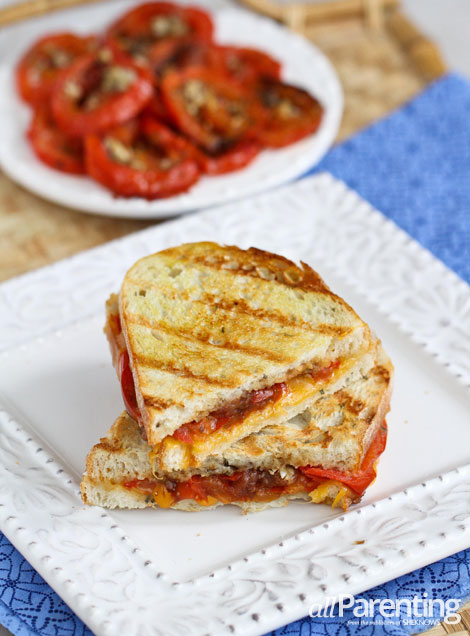 Hungry? Scroll through our delicious recipes!