Posted: Oct 24, 2013 5:00 AM
As the crisp autumn air creeps in and football season kicks off, a great bowl of chili is a must-have in any household. This beef version pairs black beans with smoky chipotle peppers for a bowl of chili that your family will request over and over again.
Chili is always a crowd pleasing one-pot meal and, better yet, the leftovers can be frozen and saved for last-minute weeknight dinners. Whether you are serving a crowd of rowdy football fans on a Sunday afternoon, or just cooking a hearty meal for your family, this beef and black bean chili is bound to hit the mark.
The subtle smoky heat of this chili comes from the chipotle pepper. Chipotle peppers in adobo sauce are sold canned in most supermarkets and lend a distinctive flavor to the chili. If you prefer your chili hotter, increase the amount of chipotle peppers and adobo sauce in the recipe.
To freeze, let the chili cool completely, then portion into dinner-sized freezer containers, leaving about half an inch between the chili and the lid to allow the chili to expand as it freezes.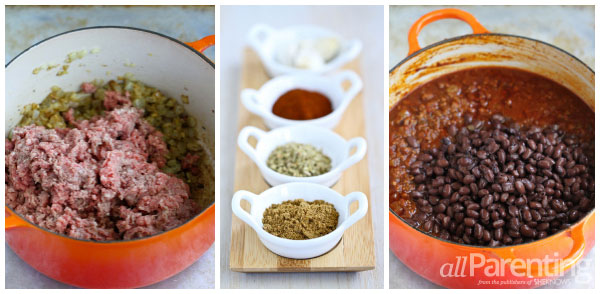 Smoky beef and black bean chili
Serves 8
Ingredients:
1 tablespoon olive oil
2 medium onions, chopped
1-1/2 teaspoons dried oregano
2 teaspoons ground cumin
2 garlic cloves, minced
2 pounds lean ground beef
3 tablespoons chili powder
3 bay leaves
1-1/2 teaspoons salt
1 (28 ounce) can crushed tomatoes
2 tablespoons tomato paste
1 chipotle pepper, seeded and minced
1 teaspoon adobo sauce (from chipotle pepper can)
2-1/2 cups low-sodium beef broth
2 (14 ounce) cans black beans, drained and rinsed
Cilantro, minced
Directions:
Heat canola oil in a large, heavy pot set over medium heat. Add onions and sauté until tender and light brown, about 10 minutes.
Add cumin and oregano. Stir for 30 seconds, then add garlic cloves. Stir for an additional 30 seconds.
Increase heat to medium-high. Add ground beef, breaking it up with a wooden spoon until it is cooked through.
Add chili powder, bay leaves and salt.
Stir in crushed tomatoes, tomato paste, chipotle peppers, adobo sauce and beef broth.
Bring to a boil, then reduce heat and simmer for 45 minutes, stirring occasionally. Remove and discard bay leaves.
Stir in the black beans. Simmer for an additional 10 minutes.
Ladle the chili into bowls and garnish with cilantro.

Hungry? Scroll through our delicious recipes!