Posted: Oct 28, 2013 5:00 AM
On chilly autumn nights, comforting meals become the go-to at dinnertime. Pop the chicken and rice, along with broth and other savory ingredients, into the slow cooker early in the day, and you'll be rewarded with a rich and warm soup.
'Tis the season for soup, chilis and stews that will warm you to your toes. Dust off the slow cooker and be prepared for one of the easiest and most satisfying meals that you will make this fall. But don't stop there. Dive into some of the recipes in 6 Slow cooker meals the whole family will love and More original slow cooker recipes for your whole family. You will have enough slow cooker recipes in your arsenal to keep your family satisfied all winter long.
For this recipe, onions, garlic, celery and carrots are sautéed, then combined with lightly browned chicken breasts pieces at the bottom of a slow cooker. Stir in some rice and chicken broth. Five hours later you will be rewarded with a hearty soup that is full of goodness.
This soup can be made ahead of time and refrigerated. However, the rice will absorb most of the liquid. When reheating, add some additional chicken broth to thin the soup.
Slow cooker chicken and rice soup
Serves 4
Ingredients:
4 teaspoons olive oil, divided
1 medium yellow onion, chopped
2 cloves garlic, minced
2 stalks celery, diced
2 carrots, peeled and cut into half circles
3/4 teaspoon dried thyme
1/2 teaspoon salt
1/2 teaspoon pepper
2 boneless, skinless chicken breasts, cut into 1-inch pieces
3-1/2 cups low-sodium chicken broth
3/4 cup rice
1/4 cup minced flat-leaf parsley
Directions:
Heat 2 teaspoons of olive oil in a large skillet set over medium heat. Add the onions and cook, stirring occasionally, until the onions are starting to soften.
Add the garlic, celery, carrots, thyme, salt and pepper. Cook for 2 minutes. Transfer the mixture to a slow cooker, spreading it evenly on the bottom.
Using the same skillet, turn the heat to medium-high and add the remaining 2 teaspoons of olive oil. Add the chicken and cook until just starting to brown on the outside. Transfer the chicken to the slow cooker.
Pour the broth into the slow cooker, add the rice, cover and cook on LOW for 5 hours.
Taste, season with more salt and pepper, if desired, and stir in parsley. Serve.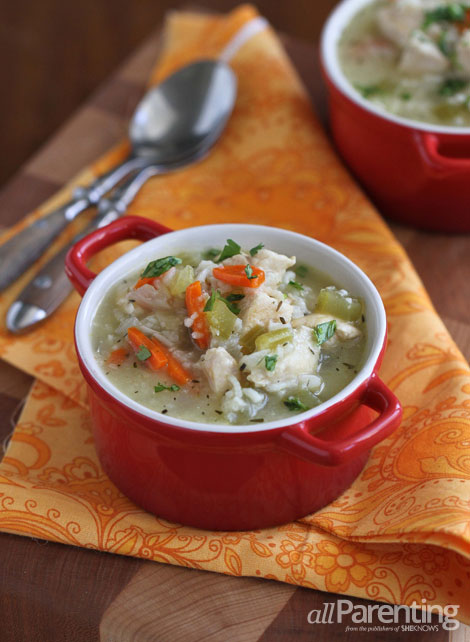 Hungry? Scroll through our delicious recipes!