Posted: Oct 16, 2013 5:00 AM
Never overcook your pork chops ever again with this slow cooker dish. Sweet and spicy apple and mustard pork chops are perfect to make this fall for an easy weeknight dinner!
Nobody likes tough, difficult to chew pork chops. With this easy slow cooker recipe, you'll have moist and delicious pork chops in just a few short hours. Dried mustard subtly seasons the dish without overpowering it. Add in delicious seasonal fall apples for some sweetness, serve over rice with a side salad and you've got yourself one tasty weeknight dinner!
Slow cooker pork chops with apples and mustard sauce
Serves 4
Ingredients:
1 tablespoon extra-virgin olive oil
4 boneless pork chops
2 onions, thinly sliced
4 garlic cloves, minced
2 teaspoons dried mustard
1/2 teaspoon kosher salt
1 teaspoon freshly ground pepper
2 tablespoons flour
1 tablespoon apple cider vinegar
1/2 cup apple juice
2 apples, cut into thick slices
1 tablespoon Dijon mustard
1/2 cup milk
2 tablespoons plain Greek yogurt
Directions:
Heat large sauté pan over medium to high heat. Add olive oil. Brown pork chops on both sides, about 2 to 3 minutes per side. Place browned pork chops into slow cooker.
Reduce heat to medium on pan and sauté onions until soft and translucent. Add garlic, dried mustard, salt and pepper. Cook and stir for 1 minute.
Add flour and cook, stirring for 1 minute. Add vinegar and apple juice and cook until thickened.
Pour mixture over pork chops in slow cooker.
Cook on low for 2 to 4 hours. Add the apples the last 30 minutes.
Remove pork chops from slow cooker to a serving platter. Stir Dijon mustard, milk and yogurt into the juices in the slow cooker.
Pour sauce over pork chops and garnish with more apple slices.
Serve pork chops over bed of rice and serve alongside a green salad.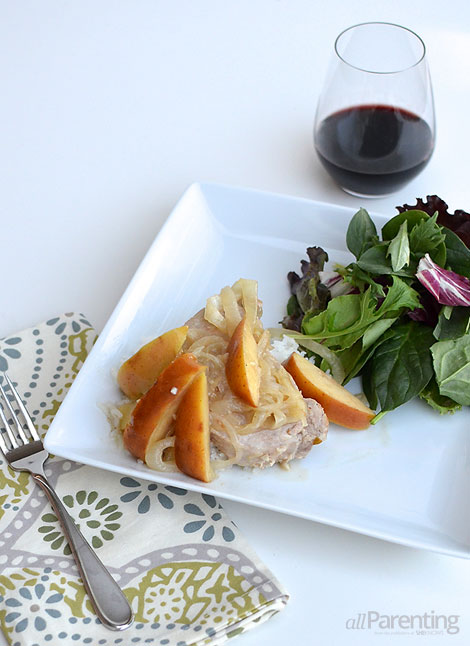 Hungry? Scroll through our delicious recipes!