Posted: Oct 17, 2013 9:00 AM
Halloween party food for kids is fun, tasty and — sometimes — scary! Try our Halloween food recipes to up your Halloween party or table a notch or two! You're sure to love these clever and easy Halloween food ideas!
Bring Halloween fun from your costumes to your table with our fabulous Halloween recipes! These are sure to delight — and spook! — just the right amount!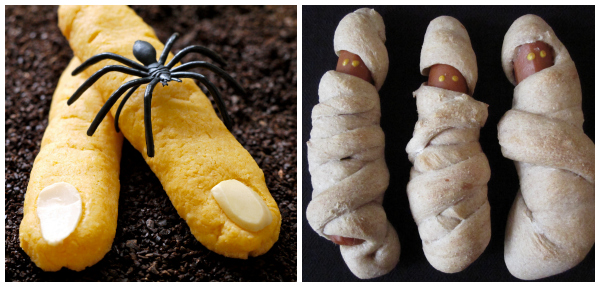 Catherine McCord is the founder of Weelicious, a site for fast, fresh, easy recipes for the whole family. Catherine shares two scary and scrumptious Halloween appetizers. About her Cheese Wafer Fingers, Catherine says, "Whether you're having a get-together this Halloween or just want to make something a bit gnarly looking — but delicious! — these fingers will be a hit with everyone!"
And about her Mummy Dogs, Catherine says, "Wrapped in whole wheat pizza dough, these dogs are a standout— and usually the first thing gone! — at any party!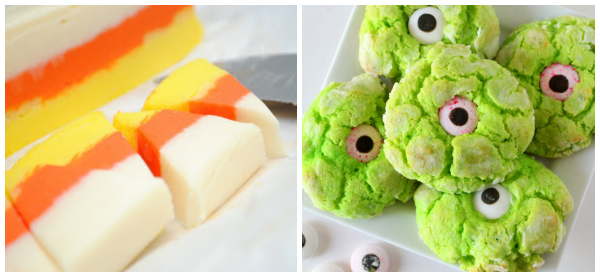 Ashton Swank is a burgeoning photographer, an emerging entrepreneur, an experimental baker, a social networker and the face behind the fun blog, Something Swanky. Ashton's Halloween recipe is Fudge Candy Corn, a simple, yummy Halloween fudge that everyone will love — even the candy corn haters!
Kristyn Merkley is the creative blogger behind Lil' Luna, a one-stop shop to find all things creative for every occasion. Kristyn's Ooey Gooey Monster Eye cookies are soft, easy and perfect for your next Halloween party!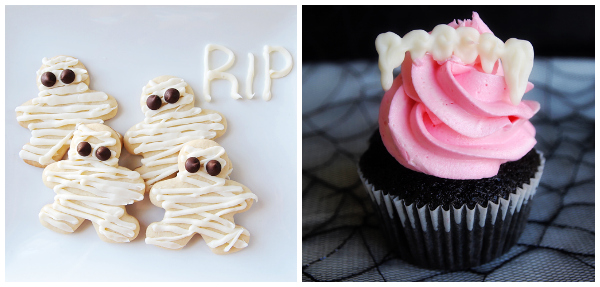 Monique Malcolm is the inspiring blogger at The Sparkle Collective, a lifestyle blog focused on making everyday life shiny through creative living. Monique shares two Halloween party recipes. First, about her Mummy Cookies, she says, "rolled cookie dough, a gingerbread man cookie cutter and melted chocolate are all you will need to make mummy cookies that will knock them dead."
And about her Black Velvet Vampire Cupcakes, she says, "The familiar goodness of Red Velvet in a moist black cake topped with creepy vampire fangs."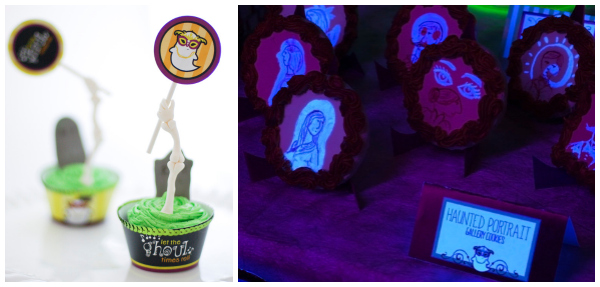 Nikki Wills is the clever blogger behind Tikkido, a place for creative party inspiration and tutorials to show you how to do it on a DIY budget. Nikki shares two fun Halloween recipes. First, her easy zombie grave cupcake toppers that she promises aren't too spooky or gross!
And second, her eye-catching haunted, glow-in-the-dark cookies!
More on Halloween fun
Pumpkin bottle cap necklace
Candy corn martini
Pumpkin decorating ideas for the anti-carving mom