Posted: Oct 01, 2013 5:00 AM
Once reserved only for holiday tables, butternut squash is now making its way into everyday meals. Oven roasted and served cool, butternut squash is the star of this savory fall salad.
There's no denying that butternut squash is a pivotal part of traditional holiday meals. But now, this tasty superfood is popping up in some pretty non-traditional places. Loaded with phytonutrients and antioxidants, and if we're honest, just the right amount of buttery sweetness, butternut squash perfectly balances out a savory salad. We're taking this fresh spin on salad and topping it with white balsamic vinaigrette for a flavor combination that you won't soon forget! While this recipe is incredibly simple already, to save even more time, for the perfect weeknight meal or if you're in a rush, save some time by skipping the whole squash and using one bag of pre-cut and pre-packaged squash instead.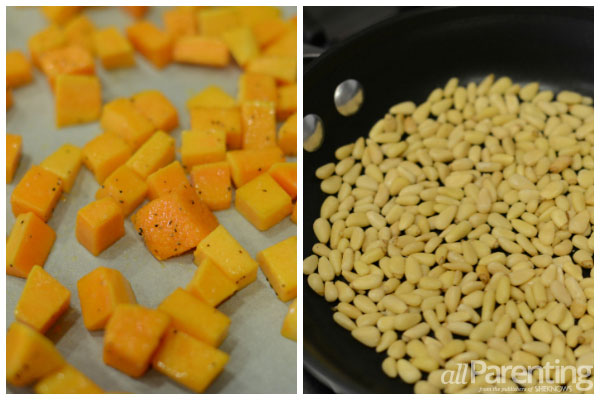 Roasted butternut squash, spinach and pine nut salad
Ingredients:
1 pound butternut squash, peeled, seeded and cubed into 1/2-inch pieces (roughly 2-1/2 cups) 
1 (2-1/4 ounce) bag pine nuts
5 ounces fresh baby spinach, washed and dried
1 tablespoon olive oil
Kosher salt and fresh pepper to taste
White balsamic vinaigrette (recipe below) 
Directions:
Preheat your oven to 450 degrees F.
Toss the cubed butternut squash with 1 tablespoon olive oil and a liberal sprinkle of both kosher salt and fresh pepper.
Roast squash for 20 minutes, or until fork tender. (Don't overcook, as you'll want the squash to keep its shape when tossed into the salad.)
Remove squash from oven and allow to cool for 20 minutes in the pan.
While squash is cooling, toast pine nuts in a small saucepan over medium heat until golden. Keep a close eye them, as they burn easily and quickly become bitter.
Once golden, transfer to a paper towel to cool completely.
Toss cooked squash, pine nuts, spinach and vinaigrette together and serve immediately.
White balsamic vinaigrette
Ingredients:
1/2 cup olive oil
1/4 cup white balsamic vinegar
1 tablespoon agave nectar
2 cloves garlic
Kosher salt and fresh pepper to taste
Directions:
Combine all ingredients in a jar with a tight fitting lid. Shake vigorously until thoroughly combined.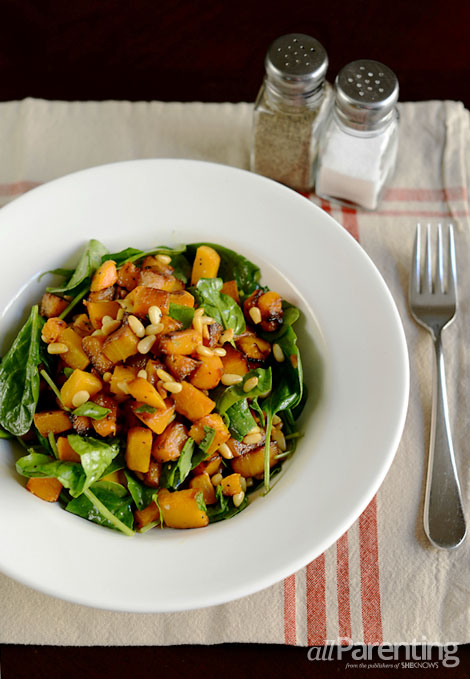 Hungry? Scroll through our delicious recipes!