Posted: Oct 22, 2013 7:00 AM
In this version of risotto, we've swapped the white rice for barley and added juicy tomatoes and Asiago cheese. We're confident that after you make this for your family, you'll be making it on a regular basis!
We think we'd be hard pressed to find anyone who doesn't love risotto. Because, really, what's not to love? Risotto is incredibly flexible and allows for nearly any combination of add-ins you can dream up. And the creaminess? But, while we're over the moon for this perfect dish, we think that it's even better when we replace the white rice with heart-healthy barley and lose absolutely none of the flavor or creaminess. In this version, we've added juicy tomatoes and Asiago cheese.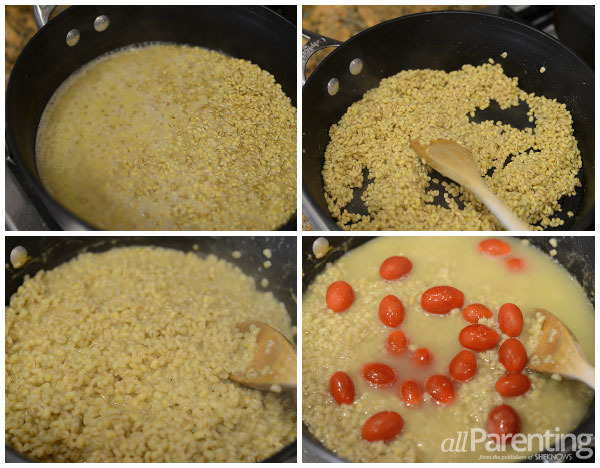 Barley risotto with cherry tomatoes and Asiago cheese
Ingredients:
5 cups low-sodium vegetable broth
3 tablespoons olive oil
2 large cloves garlic, finely minced
1-1/2 cups barley
1 cup dry white wine (such as sauvignon blanc) 
20 small cherry tomatoes
1/2 teaspoon kosher salt
1/4 teaspoon freshly ground pepper
1/2 cup grated Asiago cheese
Directions:
Warm the vegetable broth in a small saucepan over low heat.
Meanwhile, heat 2 tablespoons of the olive oil in a large saucepan over medium.
Add the garlic to the olive oil and cook for about a minute.
Add the barley to the olive oil and garlic and cook, stirring continually, for 2 minutes.
Add in the white wine and continue to cook until the wine is completely absorbed, roughly 3 minutes.
Slowly add the vegetable broth, 1/2 cup at a time, stirring with a wooden spoon and waiting until each broth addition is completely absorbed before adding the next 1/2 cup of broth.
Add the cherry tomatoes with the last 1/2 cup of broth and cook until the liquid is absorbed. It should take roughly 30-35 minutes for all the broth to be completely absorbed.
Turn off the heat, season to taste with the kosher salt and freshly ground pepper.
Stir in the grated Asiago cheese and serve hot.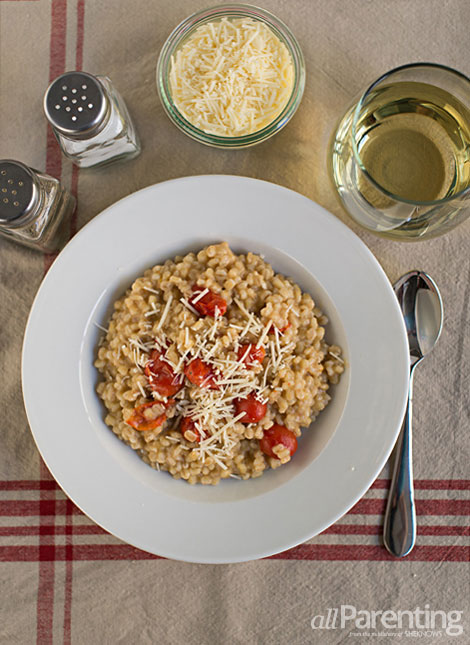 Hungry? Scroll through our delicious recipes!